Exact Synergy

Workflow and document management software

New customers buy the technology via one of the complete solutions. Existing customers can extend their Synergy license with additional users and add-on solutions. Together with our resellers we have a unique combination of expertise, skills and services to offer specialized solutions to the specific needs of SMEs.
Exact synergy is the process technology platform that
Exact HRM, CRM and BPM

are built on.
Process management and automation, signalling and alerts
Fully integrated document management and archiving
Project management and administration
Templates for HR, sales and other business processes
Full integration with Exact for Finance and ERP
Online access, fully international business software
The multi-faceted

SMB business solution
CRM software
Exact Synergy for CRM brings down the barriers between sales, marketing, finance, support and every other department in contact with your customers.
The web-based CRM system offers an organization-wide data source. Thanks to document management and workflows, you can rest assured that all employees are properly informed and creating sustainable customer relationships.
One CRM system for 100% insight into your customer relationships
Complete integration from prospect contact to invoicing
Automatic alerting for sales and service
Extensive web-based portal functionality
Anytime, anywhere system insight with the CRM App
Try the demo
HRM software
The role of the Human Resources Manager is changing. More time is needed for strategic planning. Having your personnel administration quickly and easily in order can seriously decrease the workload.
Exact's HRM software can make that happen. Introducing Exact Synergy HRM.
One HRM system for insight into your personnel administration
Build a digital employee dossier quickly and easily
Mobile and web-based functionality for absence registration
Self-service apps for Android, iPhone & Windows Phone
Alerts for birthdays or anniversaries
Self-service employee portal
Try the demo
Project Management
As a professional service provider, you want to grow responsibly, remaining in control of your organization. Real time insight in pipeline and committed work is essential, as is the optimal deployment of your consultants. You also need to ensure all hours are correctly invoiced. And have insight in current project results. Exact supports the entire process from sales to invoicing, providing the information you need to stay on course.
Efficient co-operation
A firm grip on projects and budgets
Plan and register information easily online
Send correct invoices
Try the demo
Social Collaboration
Through Social Collaboration, colleagues can use Synergy to share information on timelines and in groups. This promotes cooperation, especially between departments and branches across countries. Thanks to Social Collaboration, informal discussions and conversations take place within the safe environment of your business software, so that the information is preserved and the knowledge can be retrieved.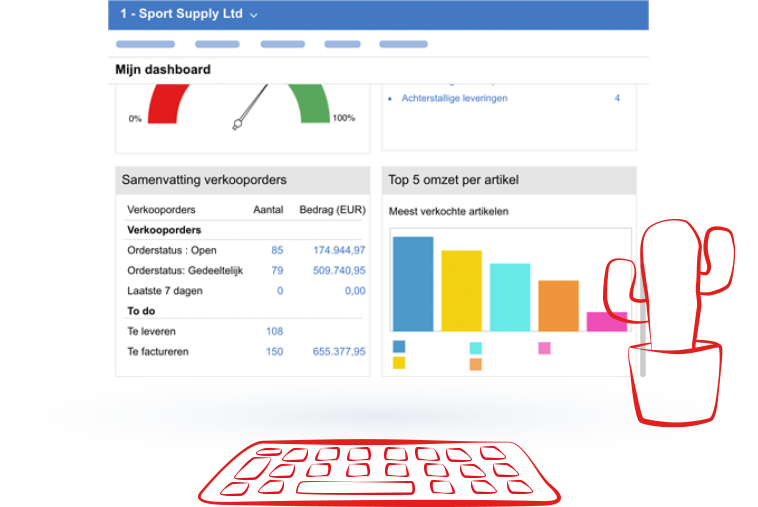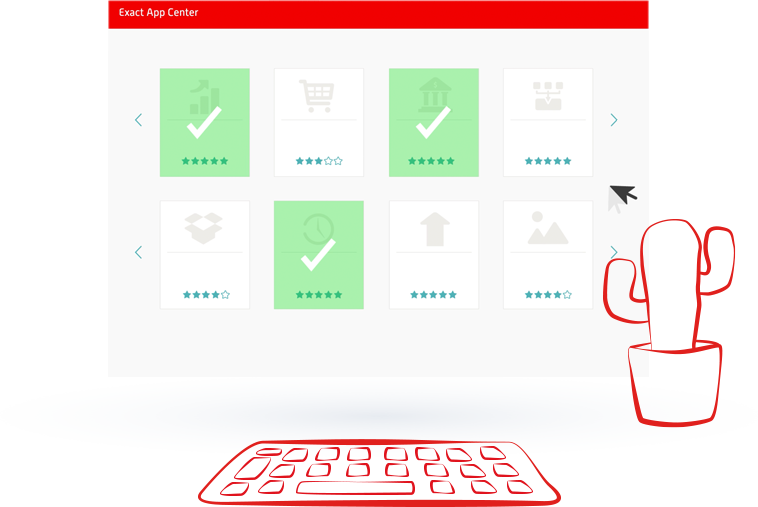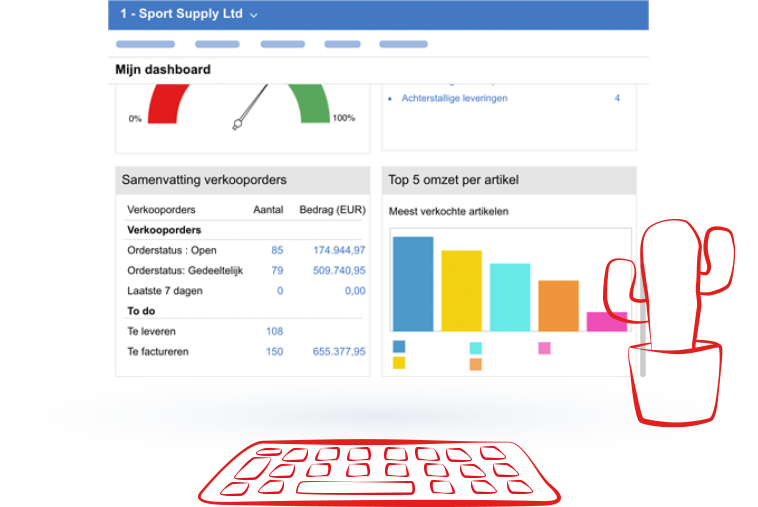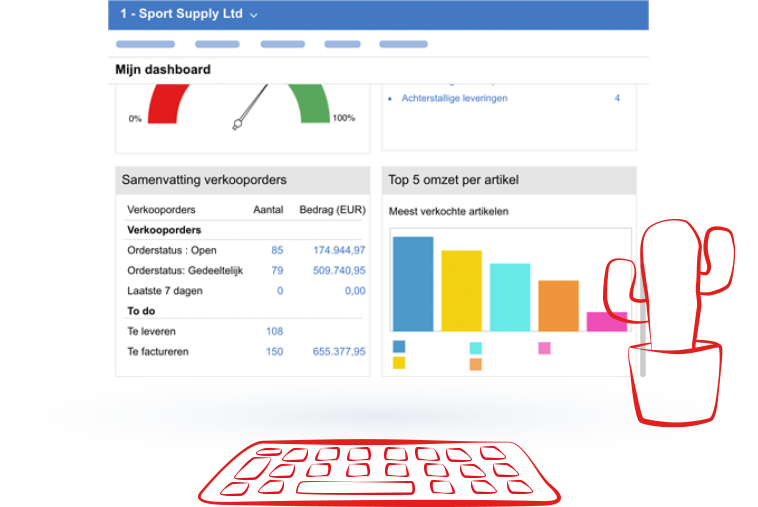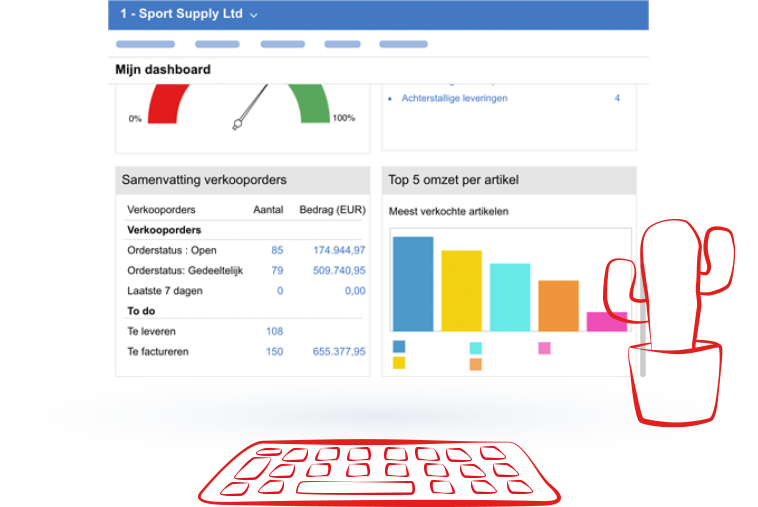 Get started

quickly with our consultants

Our consultants are Exact experts who ensure that you can start realising the benefit of your new business software quickly and in the most efficient way. They share their product knowledge and expertise with you and your staff. And best practice with regards to the setup of your current business processes.
Client testimonials

Menken Orlando

At Menken Orlando we continue to work on the optimisation of our processes, and Exact helps us with this. Using WMS  saves us a lot of time in our inventory management and works very accurately.
Client testimonials

Bugaboo International

We looked at a range of systems, including the major players with ERP packages. However, we concluded that we are still very satisfied with Exact and in combination with a number of custom solutions, we can continue for a number of years to come.
Client testimonials

Aufderhaar Kunststof Groep BV

As we need to register more information, Exact Synergy ensures we keep the administrative avalanche under control. Since the implementation of Exact Globe and Exact Synergy, we've been able to save time equivalent to 1.5 FTE.
Client testimonials

Tebodin

With Exact Globe, we have been able to reduce our reporting time by 20%
Client testimonials

Agrifac Machinery

It's a piece of cake to review or update your production plans in Exact
Client testimonials

Yogi Tea

This is how Yogi Tea manages millions of bags of tea around the world. Exact helps us to meet the strict quality requirements set by the FDA and other authorities.
Client testimonials

Qlip

Exact is a significant part of our dairy farm assessment system.