Always insight

into the progress of your project and time tracking

Exact for Project Management offers you permanently up to date insights into all processes from sales to through to invoicing. You can guarantee all hours will be correctly invoiced, you have overview of your company and you're ready for the future.

The ultimate
all-in-one software

for consultancy firms and service providers

Working in the professional services industry, you realise the critical role It enables you to spend as much time as possible on your core tasks- on the things your customers value. You want to be billable. Time spent on additional activities such as administration is wasted time. By digitising these activities with Exact, you can save valuable time which you can spend on your customers instead.

Exact Globe and Exact Synergy are the basis of Exact for Project Management.
Why Exact for
Project Management
Easy time registration
Exact makes planning and incredibly easy. Thanks to the transparent planning board you can create an efficient planning overview which is integrated with time tracking. Easily assign projects to employees based on skills, function or department and optimise staff levels thanks to insight into available capacity.
Invoice correctly on time
Exact allows you to easily convert your hours into correct invoices. You will no longer make any mistakes and you will never forget to invoice. You will reduce the risk of payment arrears by always having insight into the outstanding items and sending payment reminders will be easy.
More billable hours
Prevent money leaks as the number of complex projects and employees increases. Exact gives you a grip on costs and margins through better project monitoring and allows clever capacity utilisation.
Fixed income rather than monthly targets
Strengthen customer relationships and benefit from predictable turnover. Exact enables you to manage your monthly, quarterly and annual subscriptions and gain instant insight into recurring revenue and expected growth.
Manageable growth
When your growth and complexity increases, you want to stay in control. Exact will continue to support you. Projects, employees and relations are centrally managed. The inter-company functionality allows you to easily settle transactions between various branches. The figures are easily consolidated, without spreadsheets and long, time-consuming closing cycles.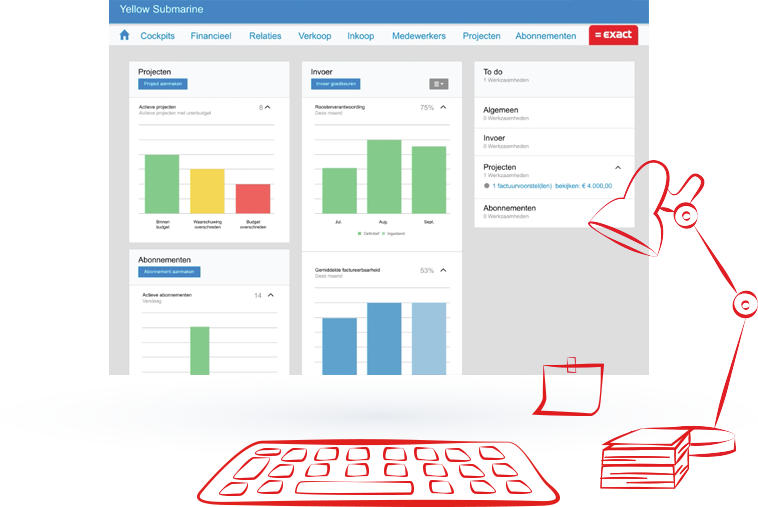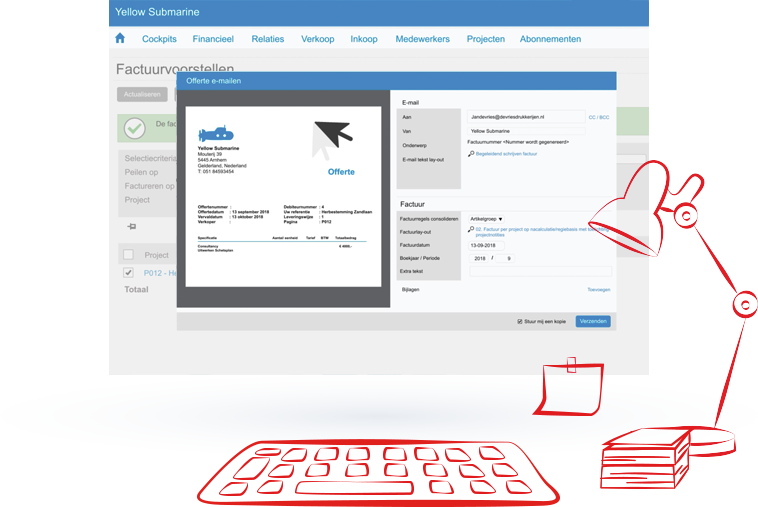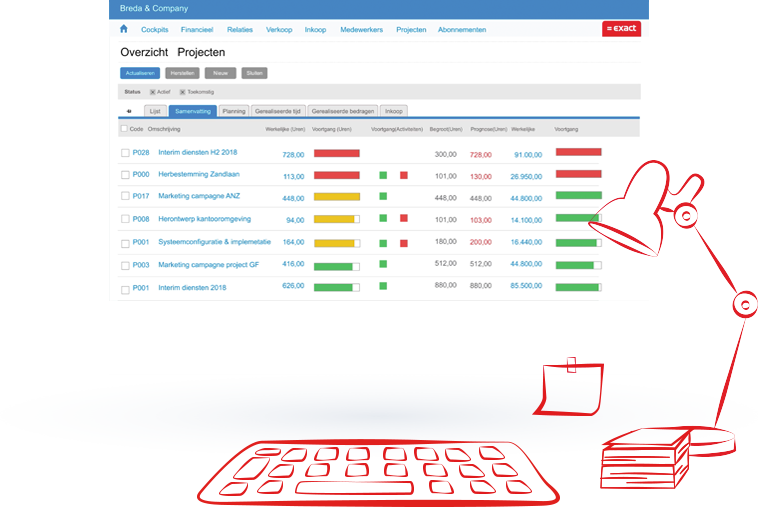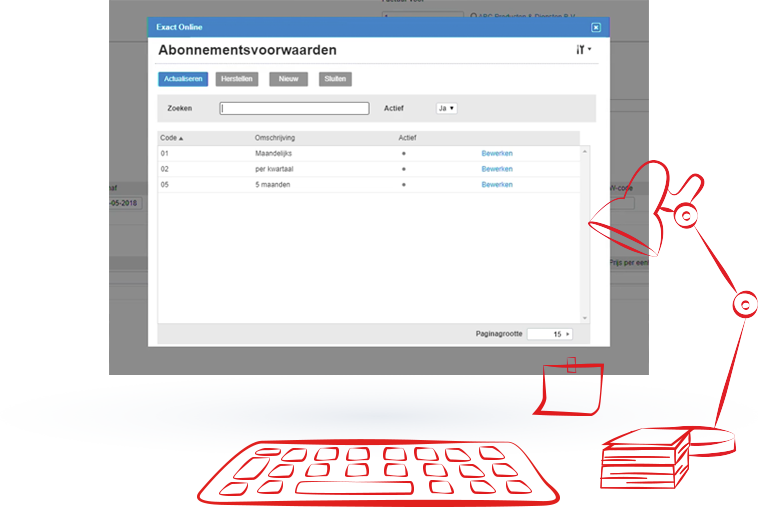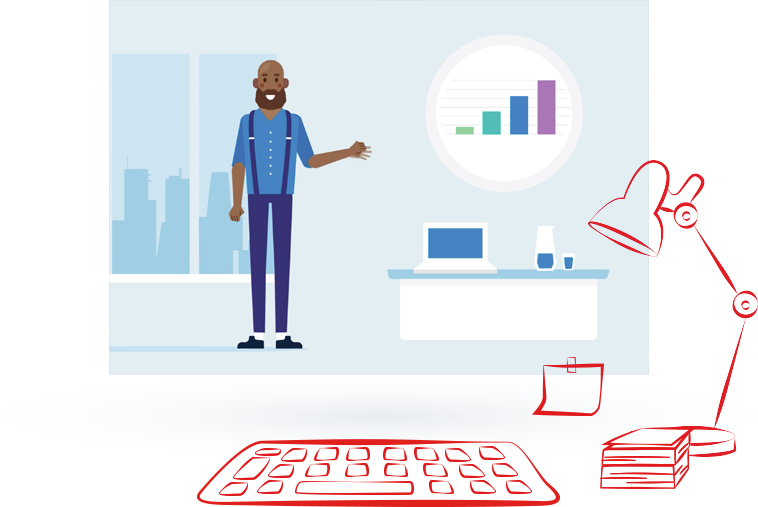 Client testimonials

Menken Orlando

At Menken Orlando we continue to work on the optimisation of our processes, and Exact helps us with this. Using WMS  saves us a lot of time in our inventory management and works very accurately.
Client testimonials

Bugaboo International

We looked at a range of systems, including the major players with ERP packages. However, we concluded that we are still very satisfied with Exact and in combination with a number of custom solutions, we can continue for a number of years to come.
Client testimonials

Aufderhaar Kunststof Groep BV

As we need to register more information, Exact Synergy ensures we keep the administrative avalanche under control. Since the implementation of Exact Globe and Exact Synergy, we've been able to save time equivalent to 1.5 FTE.
Client testimonials

Tebodin

With Exact Globe, we have been able to reduce our reporting time by 20%
Client testimonials

Agrifac Machinery

It's a piece of cake to review or update your production plans in Exact
Client testimonials

Yogi Tea

This is how Yogi Tea manages millions of bags of tea around the world. Exact helps us to meet the strict quality requirements set by the FDA and other authorities.
Client testimonials

Qlip

Exact is a significant part of our dairy farm assessment system.
Project Management

Price on request

For more multi-company project organisations that want to grow in a manageable way and spend less time on time-consuming closing cycles and consolidation processes.

Features

Modular expansion, including:

Full suite with multi-company accounting
Financial consolidation
International localisation
Process monitoring with regard to work flow management
Business analytics
Social collaboration

Scalable solution in the Exact Cloud or your own cloud, or an on-premise solution.
Exact Globe and Exact Synergy are the basis.

Download the brochureRequest a quote
Subscriptions for Exact Globe, Synergy and Business Software can be cancelled on a year-by-year basis.
Learn more about all the features.
Expand your software

with add-ons

With the most extensive choice of convenient and industry-specific links: choose from more than 220 apps. Work even more efficiently and make use of smart apps that save even more time: from bank links to smart tools for automating work orders and incoming invoices.
Training, support and
consultancy
In addition to software, we also offer 'best-in-class' customer support with our Services. We help you get the most out of your ERP software for Project Management; from analysis and consultancy to implementation and, naturally, training and support.