ERP software for
future-oriented manufacturing companies
Whether you're a start-up manufacturing company or ready for the next step, the future-oriented ERP software offers one solution for production processes, planning, order, stock and relationship management, and bookkeeping for any company.
Manufacturing software

that grows with you

Exact for Manufacturing is made for companies that want to progress. The ERP software increases the delivery reliability and at the same time streamlines manufacturing processes. This helps you to work quickly and seamlessly, and to achieve growth with optimal margins.
Your benefits

of working with Exact manufacturing software

The manufacturing software supports you with optimal delivery reliability, flexible manufacturing processes, and low stock costs, in which you have full insight. This helps you make the right decisions. Do you have branches abroad? No problem. With over 40 legislations and languages we support your company wherever you are.
All-in-one solution
Benefit from one system for all your business operations. From manufacturing, planning and purchase to delivery and invoicing with bookkeeping and CRM. Our manufacuring software allows you to manage the entire company, and even to have full insight in your business performance.
Efficient manufacturing process and inventory management
Simplify the order picking and manufacturing processes and communicate easily with the shop floor using smart tools such as Shop Floor Control. Through shop orders, your colleagues on the shop floor will immediately see what needs to be done, and can link their hours worked to the task. This way, you save money and avoid mistakes.
Smart inventory management
Optimise your stock levels with Material Requirements Planning (MRP). You immediately see what to deliver, what you have in stock, and what comes in when. The manufacturing software calculates a purchase and manufacturing plan, so that you deliver on time and reduce your stock.
Do business anywhere, any time.
In the office, with your customers, or at home; Exact's software works everywhere. Manage your most important data on your laptop, smartphone, or tablet. Exact supports you in your growth and overcoming challenges, so that you can stay in business. No matter what happens.
Increase your delivery reliability
Digitalise your warehouse and shop floor with the ERP software for manufacturing. Paper shop orders and order picking receipts disappear. Your error probability reduces, and your delivery reliability rapidly increases.
Gain complete insight into your business
Get instant insight into your business performance. This gives a good picture of your work orders, stocks and finances and the suppliers that have delivered on time. No matter where you are, with handy apps. You will also see what you need to do instantly via alerts and a to-do list.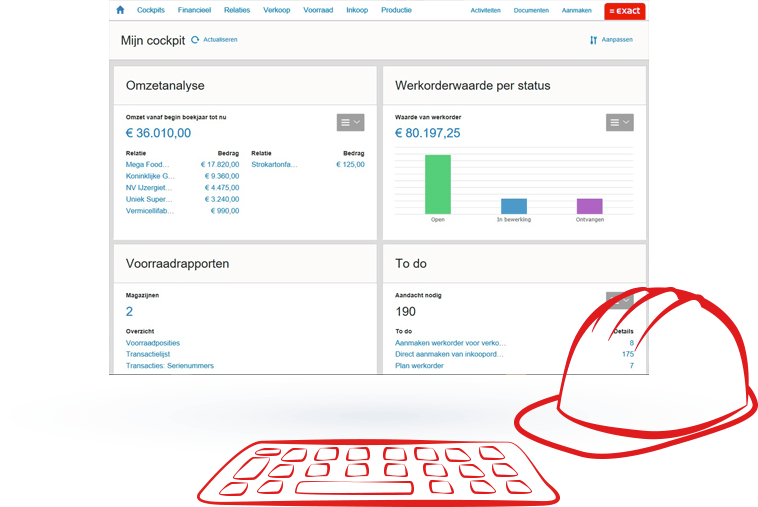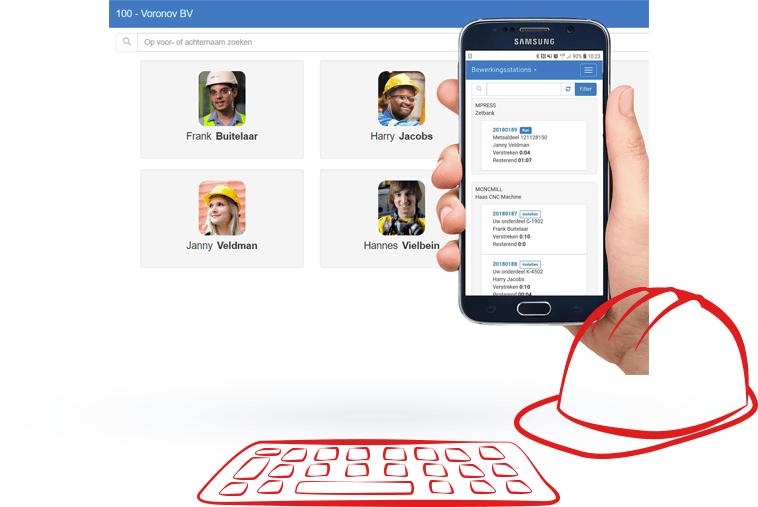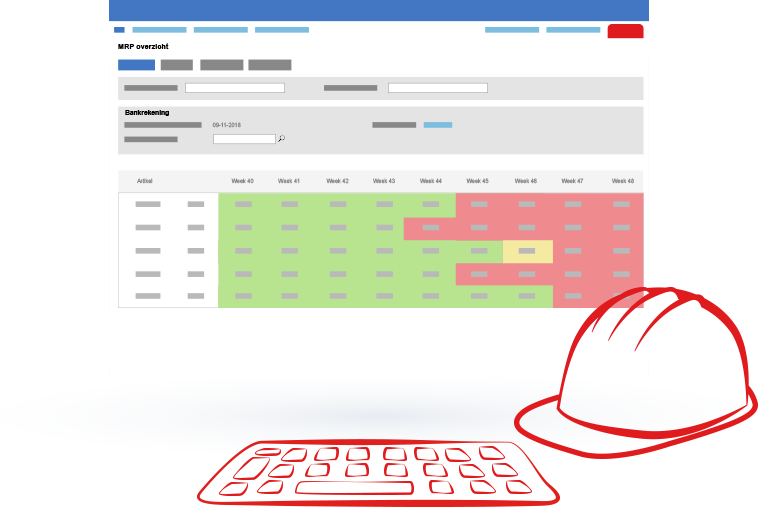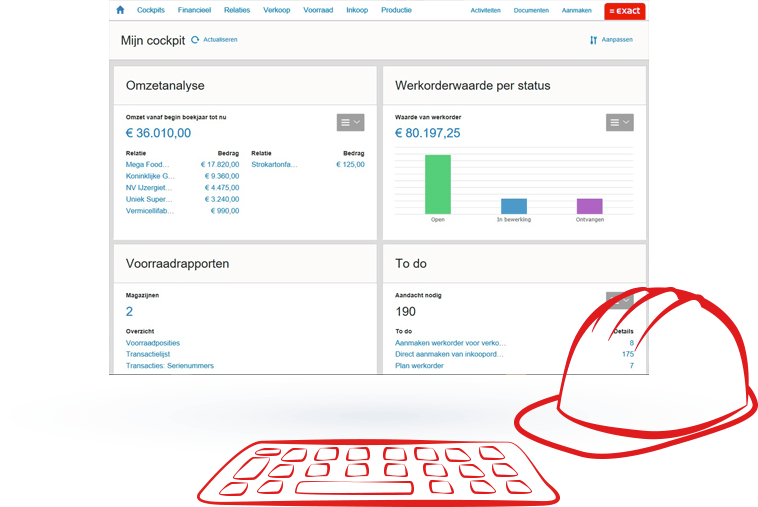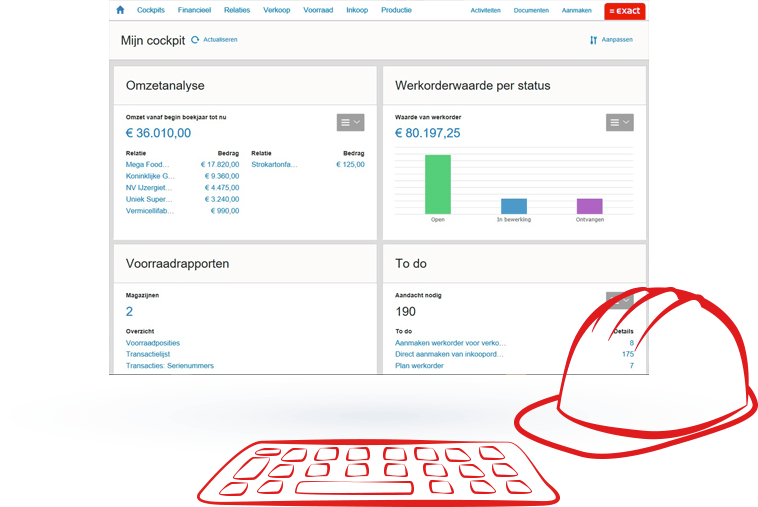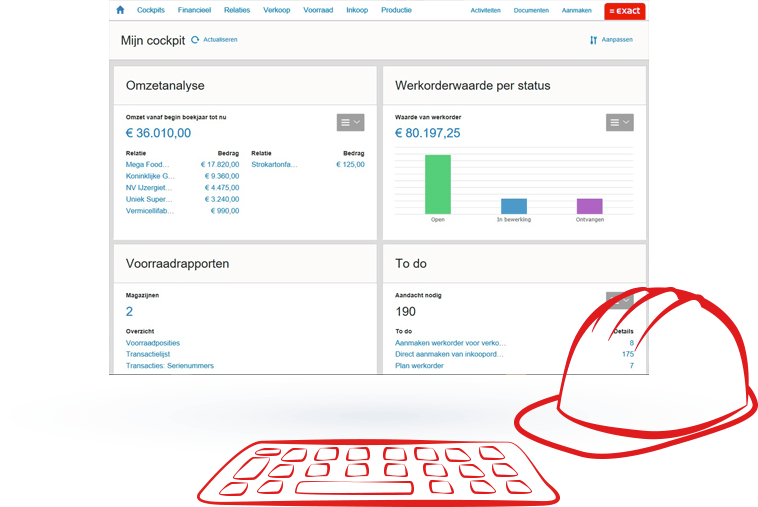 Client testimonials

Vacu Vin

The most important gain over the past few years with Exact Globe and Exact Synergy is that everyone immediately sees the information that we make available.
Client testimonials

Van Wijngaarden

Finance, invoicing, inventory, manufacturing, CRM, projects and purchasing – everything is now connected and carried out within a single system. This works brilliantly for us. Despite the growth of the company our office still has the same number of staff, which is really saying something.
Client testimonials

Valk Welding

We appreciate going with the flow of developments of an Exact standard package. This leads to a stable and continuous process. Exact is also a stable partner
Client testimonials

Yogi Tea

Quality requirements, warehousing and administration under control.
Client testimonials

Qlip

As a dairy country, we're already forerunners, but there's still a whole new world to conquer. Exact's software will help a quality control company such as Qlip to maintain this leading position even more effectively.
Client testimonials

Agrifac Machinery

The Exact solution is intelligently set up, our information overview becoming increasingly more accurate which in turn supports the effectiveness of our planning. It's a piece of cake to review or update your production plans in Exact.
Connect and expand


your software

Make your work even faster and smarter by connecting and expanding your Exact software with your favourite service or app. You can find the most common add-ons here. If this is not what you are looking for, take a look at our entire range.
Get the
most

out of your software

We will help you get the most out of your ERP software for manufacturing, from analyses and advice to system implementation, training and support.
Need help making your selection?
Use the product selector to find out which package is right for your business within seconds.