The number 1 software for
forward-thinking

accountants

Complete your administrative tasks much more efficiently, have more time to provide proactive advice, and find more ways to offer additional services with Exact: the top product for accountants & accounting firms.

Ambitious accountants and bookkeepers choose Exact
software
Do you want to work online together with clients? Looking to provide new advisory services? Want to continue the automation and digitalisation process at your firm?
Recent studies show that this is the area that the majority of accountants focus on in order to grow. Many Dutch accountants and bookkeepers have already overcome these key challenges. They use Exact Online to establish future-proof foundations on which to build their firm. Will you be the next accountant to master all the figures that come your way?
Why choose Exact for Accountancy?
Cloud software is secure, flexible and easy to get started with. What's more, your only IT costs are a monthly subscription. You and your clients benefit from the most up-to-date versions and the latest innovations at all times without having to do anything. Find out how Exact for Accountancy can support your business.
Intelligent automation
Inputting and checking data involves a great deal of work. Now you can automate it with no-hands accounting. Exact Online comes with a self-learning feature – by automatically making suggestions based on historical use, this takes more work out of your hands.
Online collaboration
Collaboration is the foundation of Exact Online. Link your environment to your customers' accounting system. My[Firm] enables customers (for whom you provide accounting services) to provide input digitally. Meanwhile, you have a full overview of their financial situation.
Valuable business advice
Exact Online gives you real-time insight into your customers' figures. Determine your customers' factors for success and create customer-specific dashboards through which you can share data online. This enables you to quickly identify opportunities for advice that you can then pass on to your customers.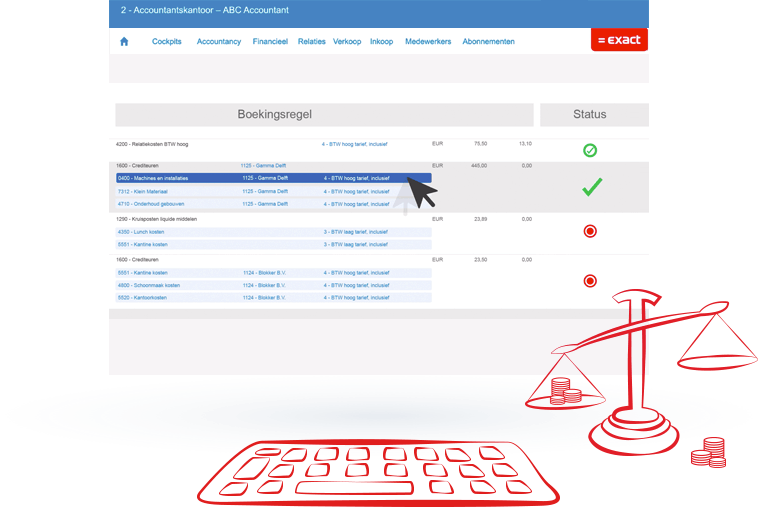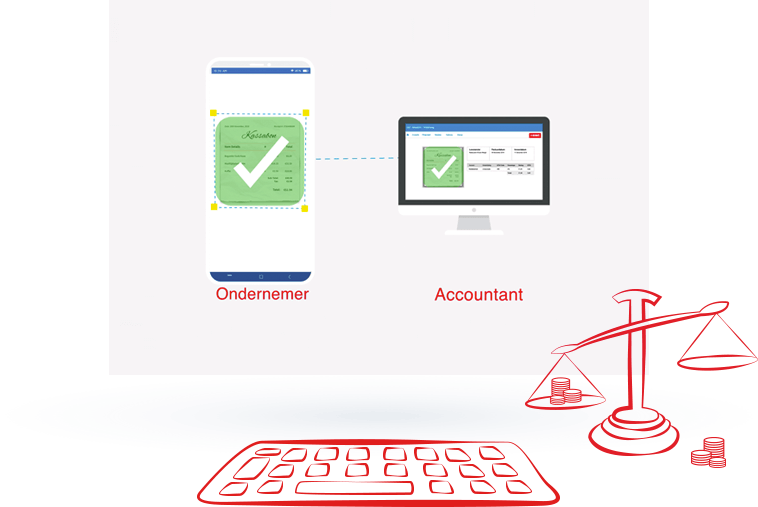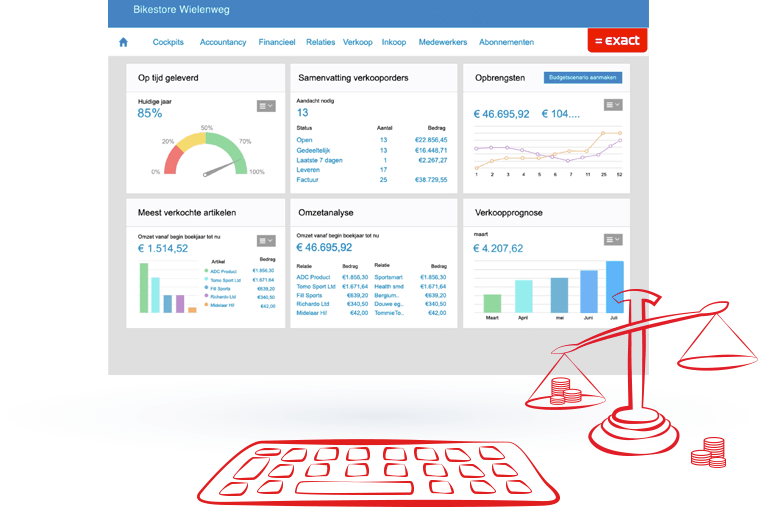 Client testimonials

RS Finance

We are able to achieve growth of at least 50% thanks to our industry-specific approach with Exact Online and the foresight to stop when the customer is satisfied.
Client testimonials

Kop of Munt

Looking at the graphs with my clients makes me happy: they know where they stand and where they are going. Exact Online powers our company.
Client testimonials

Crowe Horwath Foederer

Customers opt for Exact Online because it's user friendly and easy to link to other systems.
Client testimonials

Brouwer & Oudhof

Thanks to Scan & Recognise and the bank feeds, we have more time to draw up reports and provide advice. Our work processes are changing considerably as a result of this online accounting software.
Client testimonials

HLB Van Daal Adviseurs en Accountants

Exact gives us tools to help clients more effectively, thereby enabling us to make the right decisions with them.
Essentials

€ 39

Per month

No-nonsense accounting in the cloud.

1 user included

i

1 account included

i

Features

Collaboration
Accounting
Multi administration management

A fast, secure cloud solution that evolves with your firm.
Exact Online forms the basis

Try it for freeOrder now

Most widely chosen

Plus

€ 79

Per month

Advanced accounting with no-hands accounting.

1 user included

i

1 account included

i

All features of Essentials

No-hands accounting
Bank feeds
Billing
App connectivity
Advice dashboards
Find & Correct
Approve purchase invoices

A fast, secure cloud solution that evolves with your firm.
Exact Online forms the basis

Try it for freeOrder now

Professional

€ 199

Per month

Optimum accounting and extra service for large firms.

1 user included

i

1 account included

i

All features of Plus

Priority support
Access to the Product Strategy Council
User Profiles

A fast, secure cloud solution that evolves with your firm.
Exact Online forms the basis

Try it for freeOrder now
All subscriptions are excluding VAT. Exact Online can be cancelled on a month-by-month basis.
All prices are excluding VAT. View all features
Expand your software
Work even smarter and faster by connecting and adding to your Exact software with your favourite service or app. You can find the most widely used add-ons here. Not what you're looking for? Take a look at everything our add-on centre has to offer.
My[Firm]
For Professional & Plus
Have customers submit or approve digital receipts & invoices and give them an overview of their business results.
From €5.00
Scan & Recognise
For Professional & Plus
Automate all of your data entry processes and save time with digital billing.
From €0.55
Practice Management
For Professional & Plus
Integrate your office management processes – including time tracking, task management, document management and CRM.
€ 29,-
Payroll
For Professional, Plus & Essentials
Efficient payroll processing with automatic processing of accounting tasks.
From €1.00
Free
training

& support

Get started quicker than ever thanks to our unique Support & Services. Look no further to find all the opportunities to get a great head start. Support, training, tailored advice: our services to help you keep an overview of all your processes.
Need help making your selection?
Use the product selector to find out which package is right for your business within seconds.