Written by Bram Streefkerk
Return processes are quite challenging for most of our trade and manufacturing customers. Not only warehouse operations suffer from unclarity and unexpected arrivals of goods, resulting in lots of time waste and costs. Also the administrative staff is occupied with a lot of overhead, processing a growing number of returns.
Processing returns - never a dull moment
Challenges of receiving returned goods are known at our customers within the supply chain. Because it is not only about the return moment itself, but also all communication, checks, approval, decisions about repair and refurbishment, there are lots of costs that suppress your margins.
The reason for returning goods can be many. For each of these, it could be necessary to have different follow-up. A wrong delivery needs to be processed differently from a broken article. These processes need to be modeled, your digital warehouse need to support these processes.
New! Planned returns
This new 'planned returns' feature of Exact Online makes your return process much more efficient, and professional.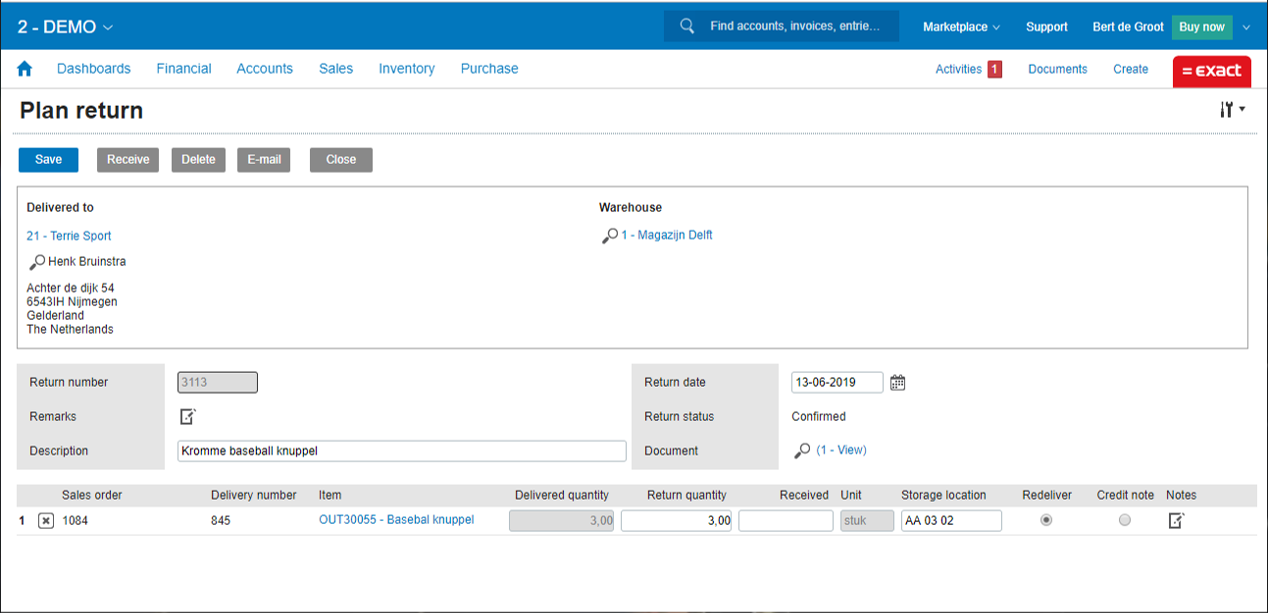 Based on a delivered order, returns can be registered upfront after which they can be processed. Part of the process, is the decision on how and where they will be received. The big advantage is that both the employees in the warehouse and at administration are informed up-front, and can take appropriate action. With one simple click, returns can be confirmed by e-mail, based on the underlying reason. A PDF containing all details on the returned items is generated and attached to that e-mail, automatically.  An other advantage is that inventory levels are not changed until accepting, and processing of the actual return. On top of that; a specific and different warehouse can be defined per return to receive the returned goods at the place you want.
Returns – processed efficiently
The advantages of a controlled return process, and the new functionality are clear. Next to the ones mentioned above, companies now can find root causes of returns, optimize time to process returns and boost margins as a result. But above all- customers are happier since they work with a professionally organized supplier.