Time entry approval allows you to review entries made before being invoiced. This month we've made various enhancements when making time entry approvals. These are available in Exact Online for
Time & Billing
and
Project Management
1. Track progress when approving time entries
In Exact Online it is possible to monitor budget progress using '
green – orange – red
' progress bars. These progress bars are used in various reports and are designed to help you better monitor progress and identify budget overruns. Red indicates an overrun, orange may indicate attention required, it is still within budget, but exceed a number of hours spend. Checking on budget progress whilst approving was a time consuming effort. Not any more, we've made it possible to see these colored progress bars when approving time entries. Saving time and strengthening project control. Have a look
at this video for more information.
2. Easily send timesheet e-mail reminders
Chasing employees to timely and fully report their hours can be cumbersome. We've now made it easier to identify those employees with insufficient time entries and send them a personal e-mail reminder to complete and submit their timesheets in full. More information, click
here
.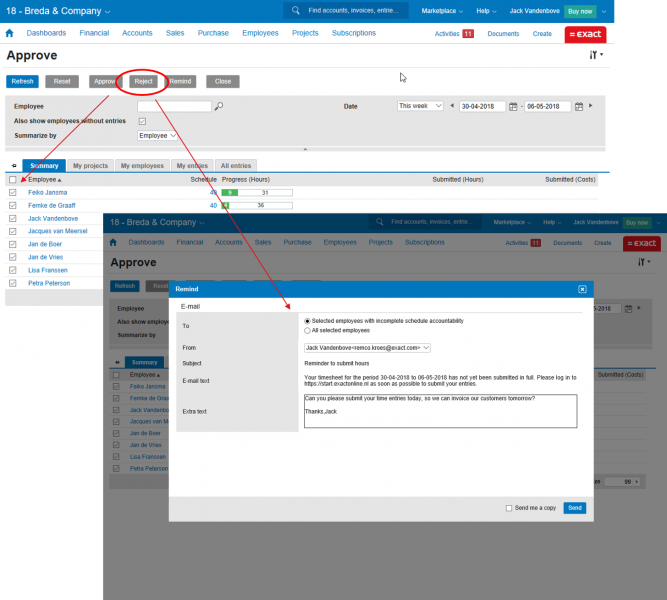 3. Add comments to time entry rejections
If there are problems with a time entry made, you have the option to reject it and notify your employees via e-mail to correct and re-submit their time entries. We've improved this process and amongst others we've made it possible to add comments – helping you to better communicate time entry rejections. Please note that you have to enable the project setting '
Send e-mail notification for rejected entries
' to notify your employees automatically when rejecting.  More information,
click here
.