Written by Auke Hylarides
Ensure that your employees on the shop floor work on the right orders, by setting the right priorities per shop order
Now in Exact Online for Manufacturing it is possible to assign priorities to your shop orders. The advantage of this is that the shop orders are produced in the correct sequence. This, for example, to be able to deliver exactly on the agreed delivery date, or to replenish your inventory on time. Due to the priorities, your employees on the shop floor know which shop orders to start with. This way they work on the right orders at the right time.
This functionality is available from Exact Online for Manufacturing Advanced.
Determine the correct priority
After activation you have extra menu options available. These can be found in the menu "Manufacturing / Planning / Shop floor priorities". Here you will find 2 tabs: "List" and "Week".
1. List
In the overview, the priorities are initially determined by the system itself based on the planned end date of the shop orders. You can then adjust these priorities with the "action buttons". With the arrows you can move the priority up (higher priority) or down. You can also immediately set the priority to the highest level by using the "action button". Finally, if there is something special about the shop order, it will be made visible at the "planned end date" and further information will be provided via the "tool tip".

2. Week
In addition to showing the shop orders in a list, it is also possible to show them per week. Through the colors you can immediately see which orders require extra attention. This is shown in red. You can easily see what this is by zooming in to the shop order. Here is explained what the issue is; " Behind schedule" or " Delivery date affected" or "Material shortage".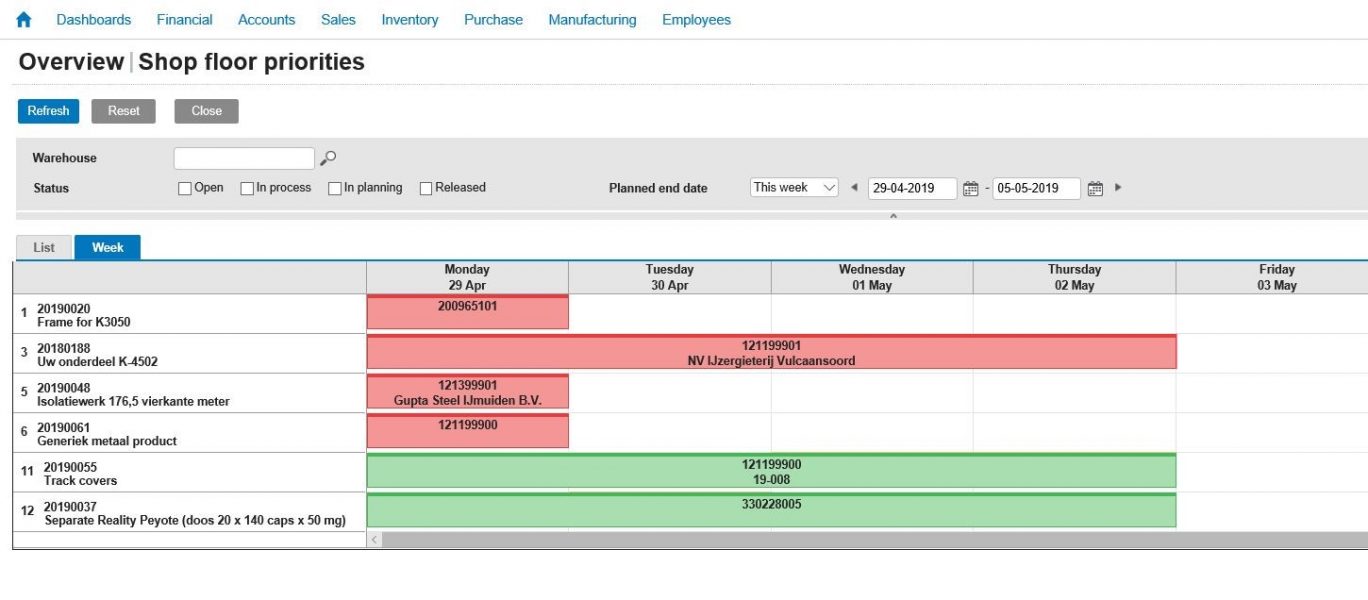 On the shop floor
The priorities are also visible to people on the shop floor via the Smart Shop Floor app. With the sorting options, the orders are sorted by priority. This way your employees are always up to date with the most up-to-date status and are working on the right orders!