New 'To be picked' feature delivers delivery advice to boost your customer satisfaction and your warehouse efficiency
Written by Bram Streefkerk
In a digital warehouse, the delivery process is guided by business software to make it an optimized process. Delivering in full, at the moment your customers expect it. Wouldn't it be nice when your business software predicts which orders you can pick, and which orders should wait, or need additional attention, due to in-availability of items?
As from today, this system is available as Early Access feature for Exact Online for Trade and Manufacturing. The new function is a brand new 'To be picked' overview which is enriched with clear and easy visualization of orders that can be delivered right away, partially or not at all.
You can simply filter the deliveries based on availability, so you can boost the efficiency of order picking by only running the available orders. But you can do more.
Investing in stock is expensive, predicting stock levels in the future is hard to do and your suppliers might not always deliver in time. It is business critical to know when a Sales order cannot be delivered in time or in full. Being a customer centric company, this is important so you can act before your customer is facing a late receipt.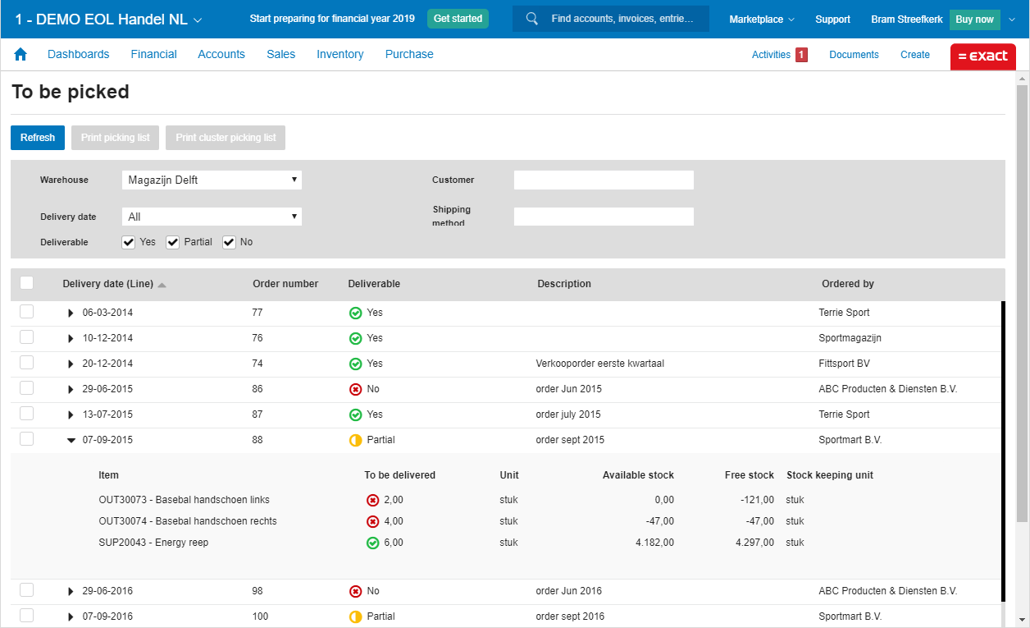 For instance, you can directly act and be in control, in stead of having things happening without any clue. You can decide to give another Sales order a lower priority, you can contact a supplier for a possible Drop shipment, do a partial delivery or contact your customer upfront to manage expectations on a late delivery.
All orders that do not have availability issues can directly be selected for picking in one go. Sales orders that can only be delivered partly but need to go out anyway can be selected optionally as well.
Business benefits
Indicator that orders cannot be delivered in full to inform customers in time.
Conscious decide on additional costs when picking for partial delivery.
Save time by avoiding staff looking for items that are not available in the warehouse.
Want to try?
The new 'To be picked' overview is directly available as 'Early Access' functionality within all editions of Exact for Wholesale Distribution and Exact for Manufacturing, in Belgium and The Netherlands. If you want to try this new feature, simply go to 'My Exact Online' by clicking your name in the right upper corner of the screen. The last option in the menu that follows is called 'Early Access' providing you a list of features that have become available to your role. Delivery advice/ 'to be picked' can be found here for our wholesale and manufacturing customers.