The Exact ecosystem continues to grow with the addition of new members of the International Partner Community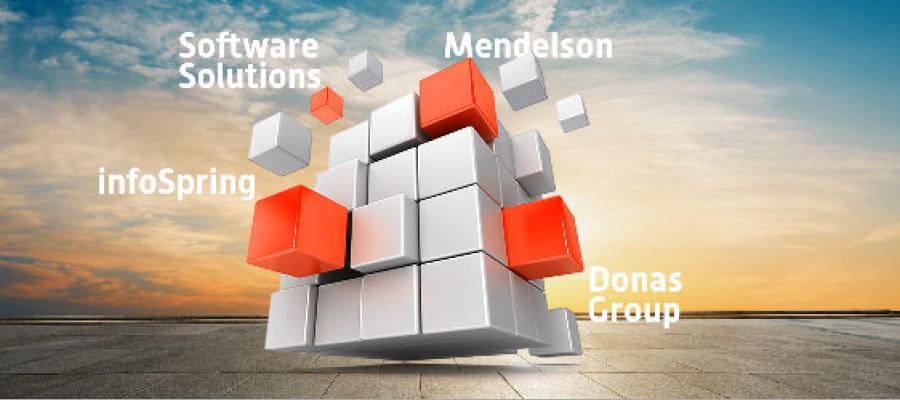 We're happy to announce and introduce 4 new members of the Exact partner community: infoSpring, Software Solutions, Donas Group and Mendelson Consulting. These new partnerships represent another significant milestone in Exact's growth strategy in the Americas regarding our international software propositions. These new partnerships further confirm our commitment to the North American market and our customer base. All partnerships have a keen focus on introducing and expanding Exact Synergy within the North American market.
Philip Bini, Director of Exact Americas, emphasizes the significance of bringing on these four partners:
"With the addition of infoSpring, Software Solutions, the Donas Group and Mendelson Consulting, Exact Americas increases our footprint in the western, northern, central and southeastern regions of the United States. Each partner has unique strengths, but all have similar business goals: evangelizing the growing adoption of Exact Synergy Enterprise in our North American market. Mid-market businesses looking to breathe life into their business processes can accelerate those goals with Exact Synergy Enterprise, along with the guided hand of these expert partners.
Bini continues: "As a mid-market business, investments in technology are more critical than ever, especially if you are augmenting your previous business software investments. Whether your historical software investments have been with Exact or other providers like Sage, JD Edwards, SAP B1 or Intuit QuickBooks, adding collaboration software is critical for growing businesses. With Exact Synergy Enterprise, we offer businesses the opportunity to digitize those business process 'interactions' that typically surround the traditional 'transactions.' With each of our recently announced partnerships, we expand our ability to service more mid-market companies with diverse technology platforms by implementing Exact Synergy Enterprise 'on top of' those core transactional applications."
Exact Synergy
Exact Synergy is a workflow and document management solution that streamlines HRM, CRM and BPM processes. The multi-faceted SMB business solution brings down the barriers between sales, marketing, finance, HR and every other department:
Process management and automation, signaling and alerts
Fully integrated document management and archiving
One CRM system for 100% insight into your customer relationships
One HRM system for insight into your personnel administration
A firm grip on projects and budgets
Quick and easy access with Exact Mobile Apps: anytime and anywhere
Want to find out more about Exact Synergy? Click here to find out how you can achieve optimal collaboration across all departments.
infoSpring, LLC
infoSpring brings years of experience servicing small and medium businesses in the Western United States and the Mid-West. "Exact has provided core solutions that have allowed our customers to streamline operations and achieve their goals", says Brad Boston. "We believe that Exact Synergy is a game changer for organizations that embrace Synergy's capabilities. The infoSpring team has works with businesses to redefine their operational workflows and document management. "Modernizing with Synergy we eliminate the bottlenecks caused by manual or outdated systems and ensure timely customer service, follow through and fulfillment."
Click here to visit the website for infoSpring.
Software Solutions Inc
Software Solutions Inc, led by Ken Miner, is a US based consulting organization who specializes in solving front office and back office business problems for small and medium sized businesses. The Software Solutions team has 20+ years of experience assessing, delivering and supporting software implementations with companies all across North America. Tim Plasier of Software Solutions is delighted to rejoin the Exact family: "We will continue to leverage our knowledge of the Exact Software products which we have been applying to satisfy our customers' needs since 2003. In addition, we look forward to offering Exact's full suite of solutions as we enter this new partnership.
Click here to visit the website of Software Solutions.
Donas Group
Donas Group, led by Jay Porras and Robert Donald, is a US based consulting organization that specializes in solving front and back office business problems for small and medium sized businesses. Jay Porras of the Donas Group has a long history of working with Exact: " The Donas Group has embraced the Exact Synergy product right from the start of our relationship and has always considered it an integral part of our business model. We believe our SynergyExpert.com website is a testament to our commitment to Exact Synergy and Exact Software. We are excited to re-connect with Exact and look forward to continued success for both organizations."
Click here to visit the website of Donas Group.
Mendelson Consulting
Mendelson Consulting is a thought leading consulting organization that specializes in solving front office business problems for small and medium sized businesses in North America. Mendelson Consulting is joining Exact's International Partner Program and will have a focused interest on introducing and sharing Exact Synergy within the Intuit QuickBooks community.
Click here to visit the website of Mendelson Consulting.
About Exact
Exact, founded in 1984 and headquartered in Delft, the Netherlands, develops financial management and ERP software for small and medium sized businesses and employs over 1,400 people. The customers of Exact are present in more than 100 countries and are mostly active in the accountancy, manufacturing, professional services and wholesale & distribution industries. Over 375,000 companies in the Benelux rely on Exact to support their businesses.