Exact Consolidation

Powered by Lucanet

Make managing your complex financial organization easy
Close each financial period quickly, easily and with
100% confidence
Exact Consolidation ensures that all your financial management processes are linked to one central source, with the most up-to-date financial data. All financial data, budgets and forecasts, as well as non-financial data are effortlessly coordinated, making analyzes very simple.
The
benefits

of Exact Consolidation
One reliable data set
Long and time-consuming closing cycles are a thing of the past. Forget complex and inflexible spreadsheets. With Exact Consolidation you benefit from a complete financial data warehouse. One central place where you will find all the answers. Whatever your accounting standards are (for example, US-GAAP, IFRS, HBG).
View the situation from every angle
Exact Consolidation offers you segmented reports and parallel creation of consolidated P&L statements, balance sheets and cash flow statements. How many levels of sub-consolidation whatsoever. This gives you direct insight into organization-wide results, from different perspectives.
A clear audit trail
Add documents and comments to create a complete audit trail, with supporting evidence for each correction. All changes during your monthly or annual closing are logged in the system. This raises the reliability of your processes and the quality of your data to a higher level.
Different currencies are covered
The automatic conversion of currencies to historical, average and daily values saves time and offers transparency. Do you want to estimate the impact of changing currency values? Or do you want to see actual results versus budgeted values? This is converted in-memory and real-time, so that you immediately see the impact.
Self service reporting
Powerful wizards support the automated creation of transaction and consolidation data, but also intercompany eliminations. Even for participations with changing ownership percentages. The solution includes closure and disclosure management. With workflows that follow and guide every step of the process. You easily determine the rules and KPI reports yourself, without the help of IT or expensive consultants.
Insight for all stakeholders
Give management direct access to the cockpit or a specific KPI report within the system. Use the powerful Excel add-in with pivot table for support. State of the art interfaces for XMLA, ODBO and MDX ensure seamless integration with your existing reporting and / or BI environment, including MS Reporting Services.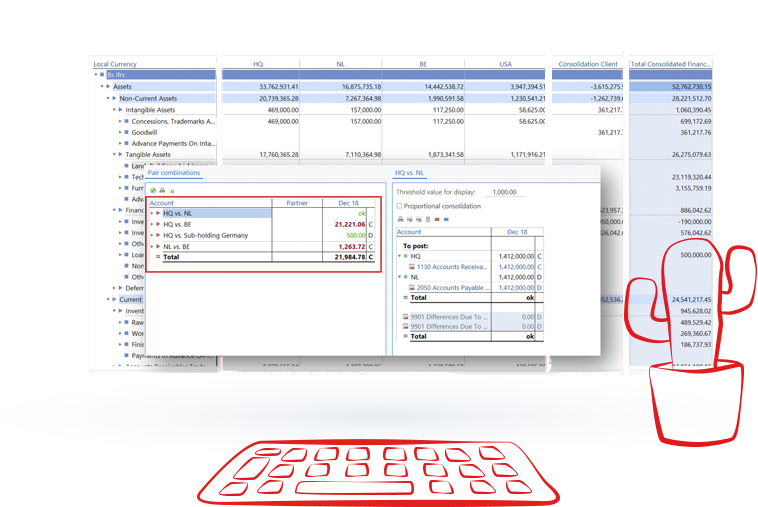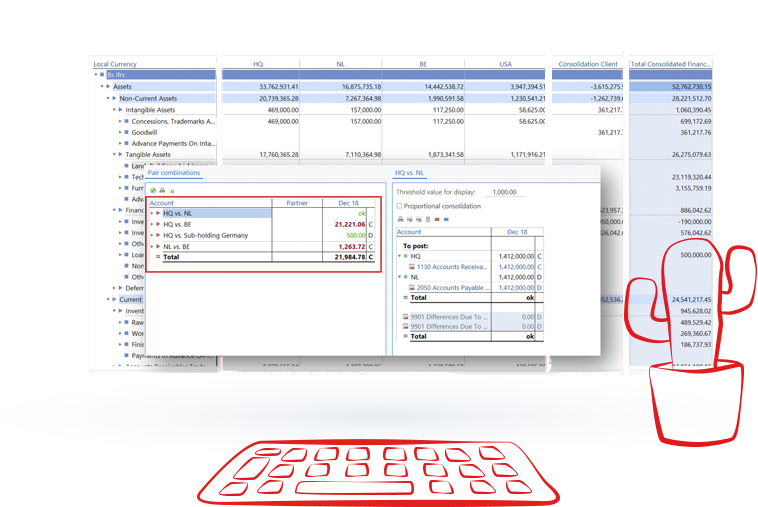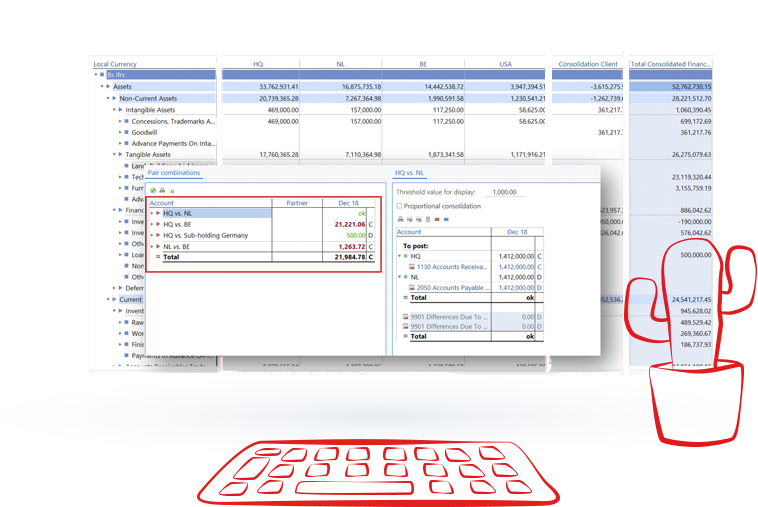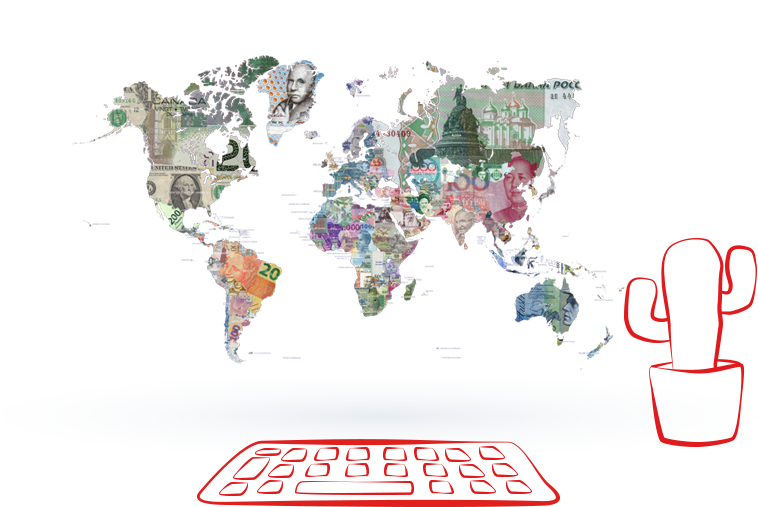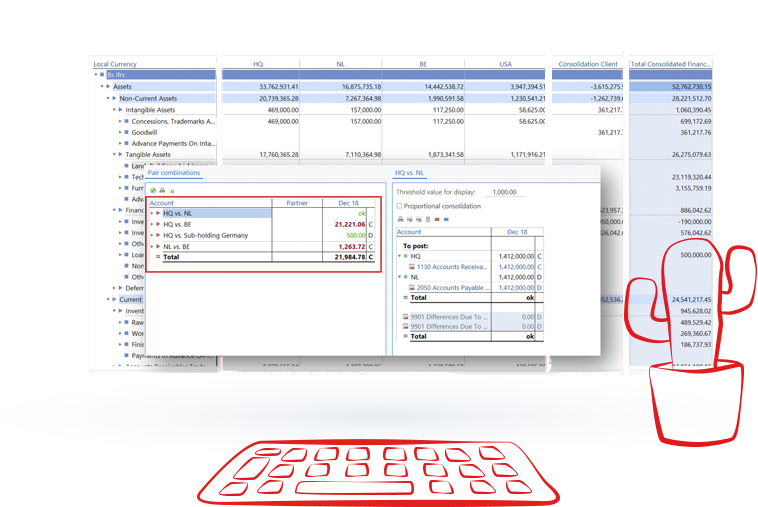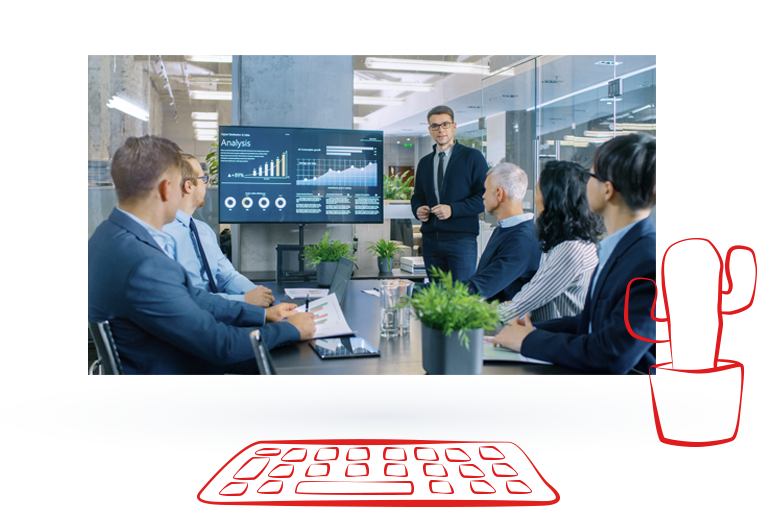 Get more out of your
company software
Get started after installation and gain the best possible return from your company software with Exact services. Whether you're setting up your online environment or customising your ERP, the experienced, professional Exact Customer Service consultants are on hand to assist you.
Client testimonials

Syarikat Jun Chong

Exact has helped us optimize our operation and significantly reduce costs. Exact offers great value for money. Thanks to its great reporting functionalities, it's very easy to read and it comes at a much better price than any tailor-made software in the market.
Client testimonials

Yogi Tea

This is how Yogi Tea manages millions of bags of tea around the world. Exact helps us to meet the strict quality requirements set by the FDA and other authorities.
Client testimonials

Agrifac Machinery

It's a piece of cake to review or update your production plans in Exact. The solution is intelligently set up, our information overview becoming increasingly more accurate which in turn supports the effectiveness of our planning.
Client testimonials

Tebodin

With Exact Globe, we have been able to reduce our reporting time by 20%
Client testimonials

Qlip

Exact is a significant part of our dairy farm assessment system.
Client testimonials

Weweler - Colaert NV

We've phased our workflows towards automation with Exact Synergy. It's been a big operation, but our employees now consider it to be a very positive experience. With Exact solutions, our business processes are designed far more efficiently.