Use the
most widely used accounting program

for all your online accounting needs

A complete accounting program that covers banking, billing and client management. Get started with Exact for Accounting and find out why accountants have been recommending us for 30 years.
Essentials

€ 39 p/m

Try it now
Order now

Plus

€ 69 p/m

Try it now
Order now

Professional

€ 103 p/m

Try it now
Order now

Top features

Features

Basic accounting
No-hands accounting
App connectivity

All features of Essentials

Cost analysis
Budget
Assets
Multi currency

All features of Plus

Unlimited bank feeds
Unlimited sales invoices

General

Users included
Extra user: €16 per month
1 (not expandable)
2
2
Accounts included
Extra account Essential and Plus: €12.50 per month. Professional €13.50 per month
1 (not expandable)
2
2
Work together online i
Exact Online app i
Tasks i
Save documents digitally i

Financial

Accounting i
Work together with an accountant or bookkeeper i
VAT and ICP returns i
Upload changes to payroll

Billing

Sales invoices i
5 p.m.
100 p.m.
Unlimited
Reminders and warnings i
Electronic invoices i
Save emailed invoices i

Bank

Bank feed
1
5
Unlimited
Receive payments i
Make payments
Direct debit

Insight and overview

Financial reports
Financial dashboard i
Sales dashboard i
Credit check i

Additional financial options

Cost analysis i
Budget i
Assets i
Foreign currency i

Client management

Manage client details i
Create client contacts via BCC i
Quotes i
Sales opportunities i
Email and marketing campaigns i

Efficient data exchange

Data import and export i
Link to other software i
App Centre i

Available add-ons

Scan & Recognise i
from €0.55 per scan
from €0.55 per scan
from €0.55 per scan
Payroll i
from €35
from €35
from €35
Subscription Management i
from €39
from €39
from €39
Online collaboration
Work online together with other users – assign tasks, share documents, make entries and more. You can also assign roles and rights to specific users.
Exact Online app
Use the Exact Online app free of charge – available for iOS and Android.
Tasks
Create tasks and assign them to other users.
Save documents digitally
Save documents online and link them to clients, entries, sales opportunities and more via drag and drop.
Accounting
The no-hands accounting feature keeps manual work to a minimum for your accounts.
Work together with an accountant/bookkeeper
Give your accountant or bookkeeper direct access to Exact Online. You decide what your accountant/bookkeeper can and cannot do.
VAT and ICP returns
You can complete and approve VAT and ICP returns with Exact Online.
Sales invoices
Create and send sales invoices.
Reminders and warnings
Create, send and monitor reminders and warnings.
Electronic invoices
You can scan in and create electronic invoices with Exact Online. We support UBL and PEPPOL.
Store emailed invoices
Automatically save invoices sent by email and process them using Scan & Recognise.
Receive payments
Receive and automatically reconcile payments.
Financial dashboard
A complete visual overview of key financial figures. The dashboard also lists important to-dos and alerts.
Sales dashboard
A complete visual overview of sales and current sales processes.
Credit check
Request credit reports of your clients. A fee applies to this service.
Cost analysis
Allocate costs and income to cost centres and cost units.
Budget
Set budgets and compare them to actual outcomes. This gives you maximum insight into where the money is going.
Assets
Manage your asset records in Exact Online. This enables you to manage your depreciations efficiently and easily.
Manage client details
Record client details and register contact notes, service requests and complaints.
Create client contacts via BCC
Create client contacts at the touch of a button via our direct BCC link.
Quotes
You can create and approve quotes with Exact Online. It is even possible to directly convert a quote into an invoice.
Sales opportunities
Manage sales opportunities and record accompanying contact notes.
Email and marketing campaigns
Manage email and marketing campaigns in combination with Mailchimp.
Import and export data
Import and export data via XML and CSV.
Link to other software
Link software from third parties via web services (API).
App Centre
Professional software from third parties is available in the App Centre. You can link it directly to Exact Online.
Scan & Recognise
Scan in paperwork with your smartphone or tablet. It will then be made ready as a complete proposed entry, which is convenient for you. The entries will also automatically be entered into a digital archive, ensuring you have everything you need, wherever you are.
Read more about Scan & Recognise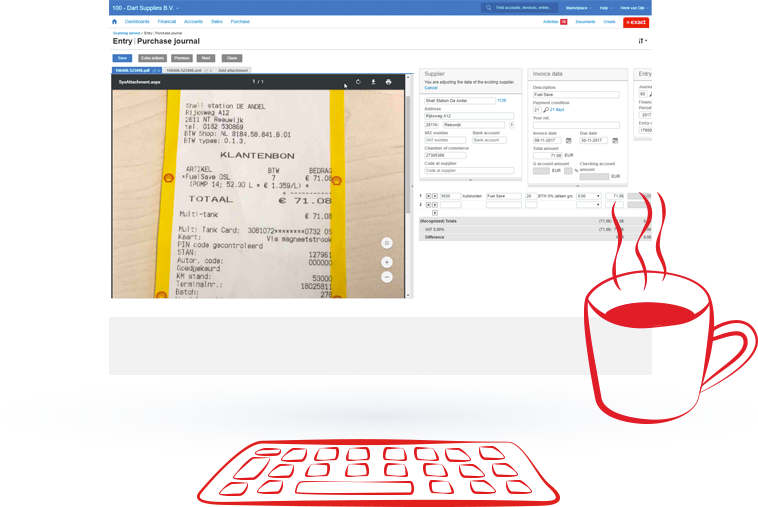 Payroll
You can manage the entire process: everything from payroll administration to preparing and accessing payment files and returns for payroll tax and pensions. This process is automated, which eliminates the risk of making mistakes by entering information twice.
Subscription Management
Want to offer your services as part of a subscription? Subscription Management makes sure your subscription administration is well organised. Set your prices, terms and durations and publish them for your clients, and monitor everything closely through extensive reports (including ones that cover your future turnover).
More about Subscription Management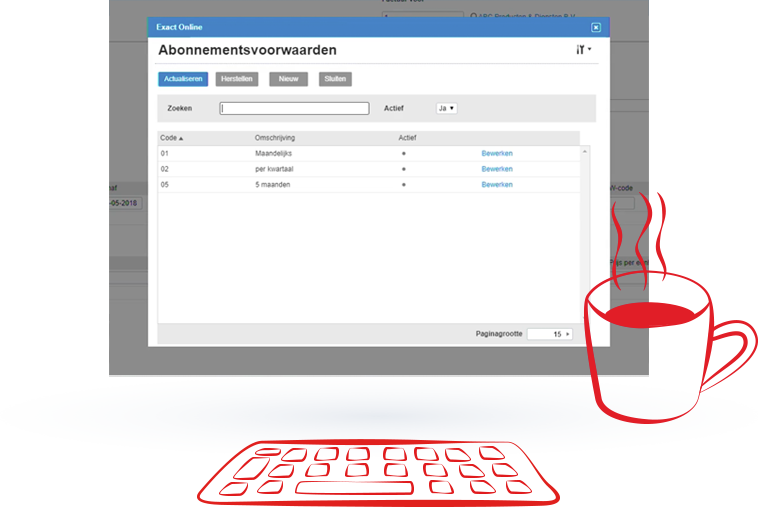 FAQ
View the most frequently asked questions here. 
Is your question not listed in the FAQ? Please get in contact with us
You can take advantage of an Exact Online for Accounting subscription free of charge for 30 days. After this period, your subscription will automatically be cancelled, unless you decide to switch to a paid subscription. You may then continue to work in this subscription.
Click on 'Order now' for the desired product. Alternatively, get in contact with one of our sales representatives on 085 - 018 6068 (available weekdays from 9 am to 5:30 pm) or by email at info@exactonline.nl
An account contains all the accounting activities for a single company. If you wish to perform accounting activities for multiple companies, you require multiple accounts.
The number of sales invoices per subscription is per month. You can manage the number of invoices sent in the software. You can see how many invoices you have sent at all times, and if the number of invoices sent exceeds the number included in the subscription, you pay an extra amount per invoice.
The number of sales invoices included in a subscription is per licence. The number of sales invoices in Exact Online for Accounting Plus, for example, is 100, regardless of the number of accounts you have. If you use Exact Online for Accounting Professional, you benefit from an unlimited number of sales invoices.
The number of bank feeds included in a subscription applies to the licence as a whole. It makes no difference how many accounts you have in, say, Exact Online for Accounting Plus – you have 5 bank feeds in total. If you have an Exact Online for Accounting Professional subscription, the number of bank feeds is unlimited.
You can make use of up to 5 bank feeds as part of your Plus subscription. One bank feed equates to one bank account. You can link an unlimited number of bank accounts with the Professional subscription.
No, your accountant can link to your account using their licence. If your accountant does not have their own licence, an extra user profile can be created for them to use.
Yes, a link to your accountant is included in all Exact Online for Accounting subscriptions.

Free
training & support
Get started with online accounting quicker than ever thanks to our unique Support & Services. Look no further to find all the opportunities to get a great head start. Support, training, tailored advice: our services to help you keep an overview of all your processes.