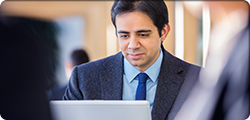 Starting in June, we are organizing several webinars to present Exact Synergy to our customers and prospects. These webinars will address different topics. The first one, was planned on the 17th of June, with the focus on CRM. This webinar was a great succes.
Concerning the next webinars, the dates will be defined later on. Keep a eye out for the news webinars on our website. They will focus respectively on:
PSA
HRM
Incoming Invoice Register (IIR)
Some additional webinars will probably be organized in the future, for example on reporting (Qlikview or Reporting Services).
Webinars are first an opportunity to address our installed base, and identify potential needs we did not cover yet. Exact Synergy, as a collaborative solution, allows to improve processes inside the organizations, and realize quick wins in term of ROI. In addition, Synergy is offering out of the box different modules allowing to answer rapidly to different business needs (Sales force automation, Customer satisfaction, Recruitment process,…).
Second, webinars allow us to present our new logos and solutions and offer you a new perspectives to improve your business and activities.