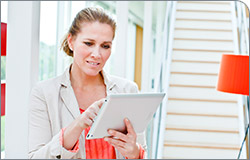 Good news! Exact is introducing a new CRM app for iPhone and iPad users. Exact has developed this app especially for sales staff who spend a great deal of their time on the road. It ensures that they always have the very latest information to hand on prospects, customers, contacts, etc. and therefore be able to make the most of any sales opportunities.
This intuitive app has various new features, such as:
up-to-date calendar information – including relevant account information
all important information is instantly added to your opportunities map
the possibility to create activities from various overviews
constant access to your customer data, with social media integration
sleek and user-friendly design
The free CRM app is already available from the App Center or App Store.
You will shortly be receiving more information on the possibilities of the new CRM app!
* The Exact CRM App is available from Synergy Product Update 252 upwards. If you are using Exact Synergy Enterprise, you will need to update to this version first. The CRM app will also be available for Android devices as from August.