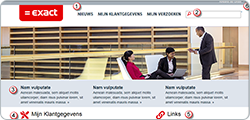 Our customer portal, the central location for information and questions about Exact products and services, has been redesigned.
It is now much more user-friendly and you will be able to find information that is relevant to you, such as product information, FAQs, manuals and news on updates, more quickly and simply.
The most important improvements:
Redesigned on the basis of your feedback and frequently-requested functions.
Enables you to stay consistently up-to-date with Exact news.
Queries can be submitted directly online to support, sales or consultancy.
Even faster answers thanks to an improved search function.
You have your own pages with a profile, your customer card and an overview of your questions and software licences. You can change your settings and password via your own profile.
Any customer with a maintenance agreement has twenty-four hour a day access to the customer portal: customers.exact.com via their login name and password. What is more, the Customer Portal button in Exact Globe Next takes you directly to the portal.