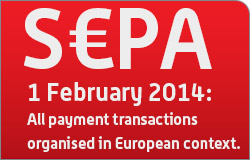 The Single Euro Payments Area (SEPA) is being introduced on 1 February 2014. Less than 100 days to go. If you are not yet prepared, now is the time to take action. It is essential that your Exact software be updated before that time. If your business is not SEPA-proof after 1 February 2014, ...
you will not be able to make collections
you will be paying your invoices too late
you will be sending your debtors incorrect payment reminders
you will no longer have insight into your company's cash flow
Avoid these unfortunate surprises by getting the correct updates
There are a number of things you must arrange in order to be ready for SEPA, and ensuring your software is fully updated is one of them.
We therefore advise you to get the most recent product update (406) as soon as possible. This ensures that your software in any event is prepared for SEPA/IBAN, you avoid unfortunate surprises and profit from the most recent changes to the Exact software. You may also need a newer version of Microsoft SQL Server. From release 404 onward, Exact can no longer support Microsoft SQL2000 or MSDE because Microsoft has stopped support of these products.
Need support?
Whether in relation to your software or your business processes, Exact offers practical support to help you with your SEPA preparations. We can also take care of the required updates and implementations for you. That gives you certainty and peace of mind. Want to know more, please contact us