We have given Exact Synergy an entirely new look and interface. As soon as you update Synergy to Product Update 255 everything will look completely different. More innovative, visually appealing and easier to navigate. The functionality is easier to find and important matters stand out more.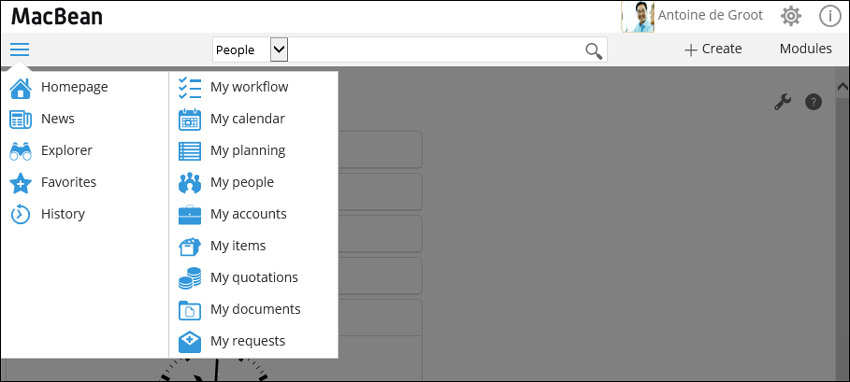 We have changed the navigation of Synergy for you, so that you can navigate through it extremely fast. The various menus are now all grouped together at the top. Your preference menus are clearly arranged in a dropdown on the left, under the 'hamburger menu'. If you want to conduct a search on the basis of different entities, you can now do so effortlessly via search in the middle. On the right-hand side you will find the 'create' function and the modules. Navigating has never been this fast!
We have developed new stylesheets for you that are fresh and modern. The basic style sheet is white and blue. Every stylesheet furthermore contains a great deal of white with one additional colour, which is easier on the eyes. As a result of this your focus is aimed entirely at the screen. We have also compiled a handy style guide for you in which you can find all the available information on the stylesheets. This makes it easy for you to adapt the new stylesheet entirely to your wishes. Synergy has never been this stylish!
The icons have also been renewed and go well with the new stylesheet.