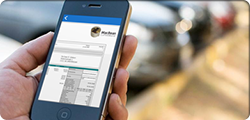 Exact is constantly developing new mobile apps to enable you to do business even faster and easier. Below are a number of apps that are currently available:
CRM App
The Exact CRM app gives you access anytime, anywhere to the most recent information so that you can close deals even faster. This app gives you direct, real-time insight into up-to-date account information, contact people, activities, sales opportunities, appointments and documents. You can also link to your customers on social media. So that you are always up to date on their most recent posts.
Expense Claim App
Submitting your receipts and bills to claim expenses is now easier than ever! The new Exact Expense Claim app lets you take care of this easily even before you have paid. How does it work? Take a photo of the bill and then submit it to immediately claim your expenses. It is as simple as that. The app also gives you direct insight into the status of the expense claims you have submitted previously.
HR Self Service App
All your HR information in one place? The HR Self Service app is an app with your personal HR information. Whether you want to ask for a day off, check your most recent pay slip or view the latest review in your personal file, all of this is possible. And that one time that you need to take the day off because you are sick, you can also use the app to easily notify your manager.
Field Service App
The Field Service app gives your service technicians insight anytime, anywhere into service orders, order history and all sorts of customer information. They can use this intuitive app to register all the information that they need to complete the order. For instance they can take photos of damage and link these to the service order.
Download your Exact Apps today from the App Store: