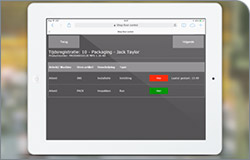 Exact Shop Floor Control (SFC) is the solution for wholesale producers and production companies that want to cut their operating costs. SFC helps you minimise the use of paper from and to the work floor. By giving your operators digital insight into the orders they are working on, you save time and prevent errors. It is also possible to easily register time and material consumption on the work floor itself. All of this using a user-friendly touch-screen interface.
The solution is available in controlled release. A number of our clients have already started using this solution and have given feedback on the functionality. We have used this to further optimise the solution.
More about Exact Shop Floor Control
Shop Floor Control presents production order details to the production floor employees in a convenient manner. They see exactly which orders are ready and which ones are coming and can view the details per processing. They can register material consumption directly at the workstation and a start/stop button makes time registration very easy. This allows you to monitor the progress on the production floor in real time.
Production employees can view the following:
Which production orders can be started
All sorts of detailed information (status, processing order, bill of materials, etc.)
Which orders are coming
Production employees can register the following:
Time, using start/stop (machine use and/or working hours)
Material consumption
Start and completion of processing
Production receipts
Notices of completion of entire production order
Record additional information (for example, in the context of quality control)
Shop Floor Control works in combination with the popular Internet browsers. This means it can be implemented on virtually any device, touch-screen or non-touch-screen. SFC Works with Exact Globe Next in combination with Exact Synergy Enterprise and the information is synchronised by Exact Integration.
Want to know more?
Watch the video below for more information about Shop Floor Control: