Growth strategy successful: Exact turning to growth
  Solid performance; full year EBITDA within guidance 

Total revenues in Q4 increased 1.0% to € 56.1 million compared to € 55.5 million in the same period last year; the increase is 3.2% on an operational basis1 
Total revenues in 2013 amounted to € 213.2 million. On operational basis and adjusted for the divestment of Orisoft in 2012, total revenues increased 0.3% compared to 2012
Total revenues including the license equivalent of subscription-based sales increased 1.1% on an operational basis and adjusted for Orisoft 
EBITDA amounted to € 47.4 million in 2013, within the indicated range. EBITDA increased 12.4% compared to 2012, primarily reflecting the one-time restructuring charge in 2012
Net income increased 70.4% to € 31.8 million in 2013, driven by a higher EBITDA and lower effective tax rate 
Exact proposes a final dividend of € 0.73 per share to be paid in cash; bringing the total dividend for 2013 to € 1.40 per share, compared to € 1.00 per share in 2012
Cloud Solutions on track with continued strong growth 

Total Q4 revenues of Cloud Solutions increased 42.4% to € 5.8 million compared to the same period last year; full year revenues increased 40.3% to € 20.7 million 
Annualized recurring revenues amounted to € 24.0 million at year-end, 44.0% higher than at the end of 2012
Number of paying companies increased 49.8% to 145,852, up 48,460 from 97,392 a year ago
Small initial commercial gains in new geographies, in line with expectations
Business Solutions is turning the corner; Specialized Solutions shows mixed results

Business Solutions' total revenues of € 30.8 million in Q4 were stable compared to the same period in 2012 and represent an increase of 0.9% on an operational basis; full year revenues decreased 3.6% on an operational basis 
License revenues for Business Solutions show consecutive quarterly growth on an operational basis compared to the prior year: 1.7% in Q4 and 0.5% in Q3; subscription-based revenue increased to € 0.3 million in 2013 from almost nil in 2012. Subscription-based sales in 2013 represent an equivalent value of € 1.0 million License revenues.
Attrition in Business Solutions improved 0.9pp to 8.4% from 9.3% on a full year basis 
Specialized Solutions' revenues declined 5.8% to € 19.4 million in Q4 mostly reflecting the weakness of the US dollar; on an operational basis Q4 revenues declined 1.4%; full year revenues of € 77.7 million declined 1.3% on an operational basis and adjusted for the sale of Orisoft in 2012 
Erik van der Meijden, CEO: "Clearly, 2013 was a successful year for Exact. Already in its first full year, our strategy 'Growth through focus, innovation and simplicity' delivered on its promise: Exact is turning to growth. Our Cloud Solutions business maintained momentum throughout the year and continued to grow very strongly in the Benelux market. Exact Online grew its client base significantly, adding 48,460 paying companies to a total of 145,852 at the end of the year. We achieved important milestones in the international expansion and product development of Exact Online from which we expect commercial traction in 2014. I am confident that we can sustain our position as the '#1 SaaS Enterprise Resource Management vendor in the Benelux2'. 
I am also pleased with the indications that Business Solutions is turning the corner. License revenues, including subscription-based sales, show consecutive quarterly growth and our efforts to enhance customers' satisfaction is paying off in sustained improvement of attrition in Business Solutions. 
Specialized Solutions results were mixed but overall did not meet our expectations. Longview reported both top and bottom line improvements. Over the past year, most of our immediate attention was directed towards Business Solutions and Cloud Solutions. In Specialized Solutions, each individual business unit focused on achieving a number of goals in their specific markets. As the year progressed, we started to review each of these businesses critically from a strategic point of view. The key element in this evaluation was their fit with the other units, plus their financial performance and longer-term financial projections operating on a stand-alone basis. At this point, we see value in the US manufacturing units (MAX, MGS and JOBBoss), which could support our cloud strategy in the US. We also see good opportunities for Longview to run its operations on a stand-alone basis, but given its products and target markets it is difficult to see a strong connection with our other business units. The case for Exact Lohn in Germany needs more work and we will continue to review this business. Our aim is to have clarity on each unit in the course of 2014.
Our financial performance is solid. We achieved our EBITDA target, with € 47.4 million we are within the indicated range. Net income rose 70% to € 31.8 million and in line with our dividend policy we propose to pay a total dividend of € 1.40 per share, up from € 1.00 last year. 2013 was also a good year for our shareholders as Exact's share price rose 47% in 2013. Including reinvested dividends Exact provided a total return of 57%. We believe this is due to the recognition that we are taking the right steps to enhance long-term shareholder value. We are grateful to the investment community for their trust and confidence. 
The restructuring and implementation of the new strategy also meant a lot to our employees in the past year. Our employees are the driving force that make our strategy of growth through focus, innovation and simplicity a successful reality. On behalf of the management team, I would like to thank all our employees right across the organization for their commitment and dedication in helping Exact to move forward. 
Looking forward I believe 2014 will be an exciting year and I am confident that with a disciplined execution of our growth strategy it will be a positive year for Exact. Notwithstanding the higher, internally funded, investments in our growth strategy, it is our objective to maintain EBITDA flat in 2014."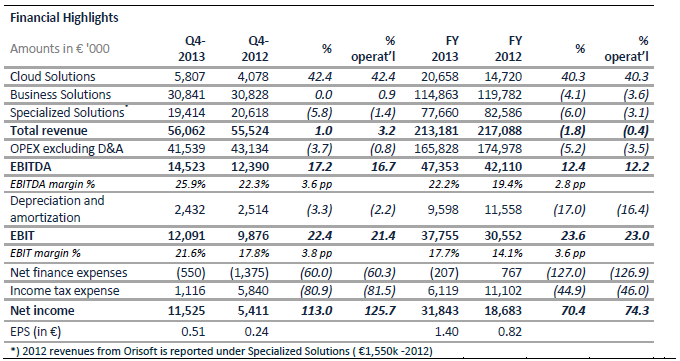 Revenues 
Total revenues for Q4 amounted to € 56.1 million. This represents an increase of € 0.5 million or 1.0% compared to Q4 last year. Revenues on an operational basis increased 3.2%. Total revenues for 2013 amounted to € 213.2 million. Adjusted for last year's revenues of Orisoft, the increase on an operational basis is 0.3% in 2013. 
Cloud Solutions
Cloud Solutions continued to report strong subscription-based revenue growth. In Q4, Online revenues increased by 44.7% to € 5.7 million. Total revenues, including services revenues, for Cloud Solutions increased 40.3% to € 20.7 million in 2013, driven primarily by growth in Accountancy Solutions and Industry Solutions. Annualized recurring revenues from Exact Online amounted to € 24.0 million at year-end. 
The number of paying companies using Exact Online increased to a total of 145,852, a 49.0% increase from 97,392 at the end of 2012. In the UK and the US, we successfully completed the controlled release of Exact Online and the product is now commercially available in the market. The initial results are in line with our expectation and we are sharply focussed on getting commercial traction in these markets. In Germany we started the controlled release of Exact Online and plan commercial launch in the first quarter of 2014.
Business Solutions
Total revenues for Business Solutions amounted to € 30.8 million in Q4, which is flat compared to the same period last year. On an operational basis total revenues increased 0.9% in Q4.  
For 2013, total revenues amounted to € 114.9 million compared to € 119.8 million in 2012. On an operational basis total revenues for Business Solutions declined by 3.6%, reflecting the impact of the restructuring in the second half of 2012. 
License revenues on an operational basis showed consecutive quarterly growth in the second half of 2013, compared to the same quarters last year: 0.5% in Q3 and 1.7% in Q4. This partly compensated the decline in the first half of 2013. Overall, license revenues declined 6.1% on an operational basis in 2013. Business Solutions experienced an increase in subscription based sales.  In 2013 subscription based revenues increased to € 0.3 million from almost nil in 2012, which represent an equivalent value of € 1.0 million license revenues. (or 5.3% of license revenues). This would substantially offset the decrease of license revenues in 2013. 
We receive positive response from our strategy to target larger companies (>100 employees segment) with our deep industry knowledge. The value of new deals has risen considerably. The direct sales team in the Netherlands increased the average deal size to € 15 thousand in 2013 from € 8 thousand in 2012.
Maintenance & support revenues declined 3.6% to € 83.2 million in 2013. The decrease in maintenance & support revenues is driven by lower license sales, migration to Exact Online, discontinuation of DOS-based products as well as normal attrition. Actions aimed to retain our existing customers are successful with sustained improvements in attrition. 
Services revenues in the fourth quarter increased 15.1% to € 3.6 million, compared to the same period in 2012. Full year services revenues amounted to € 12.0 million in 2013, a decrease of 3.0% compared to the prior year driven by lower license sales. 
Specialized Solutions
Total revenues on a reported basis for Specialized Solutions fell by 6.0% to € 77.7 million in 2013. Adjusted for the sale of Orisoft in 2012, operational revenues decreased 1.3%. Within Specialized Solutions, the individual business units showed mixed results. Increased revenues from Longview and Lohn were offset by lower revenues from the business units in the US. Longview continued to record solid growth of sales intake for the tax solutions and experienced a strong shift to its subscription-based solutions. Subscription-based revenue amounted to € 0.3 million in 2013 compared to almost nil in 2012. The license revenue equivalent of subscription-based sales in 2013, amounts to € 1.6 million license revenue, compared to € 0.2 million in 2012. 
Operating expenses
Operating expenses (excluding depreciation and amortization) declined 3.7% to € 41.5 million in Q4 compared to the same quarter last year. Full year operating expenses amounted to € 165.8 million, a decline of 5.2% on a reported basis. On an operational basis and adjusted for the sale of Orisoft in 2012, full year operating expenses declined 2.2%. This decline of 2.2% in operating expenses reflects the restructuring and other charges (€ 8.6 million) taken last year. The underlying increase of € 3.9 million in operating expenses is driven primarily by investments related to the international expansion of Cloud Solutions and development of Exact Online. 
Research and development expenses increased by 3.4% to €27.3 million in 2013. Full year R&D expenses represent 12.8% of reported revenues, compared to 12.2% in 2012. The increase is primarily driven by R&D expenses for the development of Exact Online. In 2013, capitalization of R&D expenses amounted to € 8.0 million, an increase of € 4.0 million compared to the prior year. 
Earnings before Interest, Tax, Depreciation and Amortization (EBITDA)
EBITDA increased by 17.2% to € 14.5 million in Q4 this year reflecting the 1.0% increase in total revenues and 3.7% lower operating expenses. EBITDA margin improved to 25.9% in Q4. 
Full year EBITDA amounted to € 47.4 million, an increase of 12.4% compared to € 42.1 million last year. Last year's EBITDA includes one-time charges amounting to € 8.6 million. 
Earnings before Interest and Tax (EBIT)
Depreciation and amortization amounted to € 9.6 million, a decrease of 17.0% compared to the prior year. Reported EBIT increased by 23.6% to € 37.8 million in 2013. EBIT in 2012 included one-time charges for an amount of € 10.6 million, reflecting primarily restructuring and other charges and the impairment of Orisoft.
Interest and tax 
Total finance income and expenses for 2013 amounted to an income of € 0.2 million compared to an expense of € 0.8 in 2012, which included a one-time correction of a cash flow hedge of € 1.6 million. 
The effective tax rate decreased from 37.3% in 2012 to 16.2% in 2013. In 2012, our tax rate was impacted negatively by several one-time charges mainly due to a reassessment of our deferred tax position in relation to innovation tax facilities, taxation effects from the IP transfer of the Longview software from the Netherlands to Canada, the impairment of Orisoft (not deductible for tax purposes) and provisions for uncertain tax positions in various jurisdictions. In 2013, application of the Dutch innovation tax facilities and tax exempt income were the predominant factors contributing to a lower effective tax rate than the statutory rate of 25%.
Net income, Earnings per share and Dividend 
Net income attributable to shareholders amounted to € 31.8 million an increase of 70.4% compared to € 18.7 million in 2012. The significant increase reflects primarily the higher earnings from our businesses and the lower effective tax rate compared to the previous year. 
Earnings per share (EPS) amount to € 1.40 compared to € 0.82 in 2012. Exact will propose a full year dividend of € 1.40, which is in line with the dividend policy to pay dividends at 100% of net income unless the year-end cash position drops below € 40.0 million or in case of significant acquisitions. Taking into account the interim dividend of € 0.67 per share, the proposed final dividend is € 0.73 per share to be paid in cash. The dividend will be payable to holders of ordinary shares on May 28, 2014 close of business. The shares will go ex-dividend on May 23, 2014.
Cash position
The cash position amounted to € 64.0 million at the end of 2013. The increase in the cash balance was driven by profit before tax of € 38.0 million, repayment of vendor loans of € 2.0 million and a continued focus on credit collection which led to a € 1.9 million reduction in accounts receivable. The average number of days sales outstanding improved to 38.7 from 44.3 in the prior year. The reduction in account receivables and days sales outstanding is driven by a more effective credit collection process of regional credit collection teams. 
The increase in cash was partially offset by the distribution of dividends (final dividend 2012 and interim dividend 2013) in the amount of € 28.1 million and the increased capital expenditures on R&D for an amount of € 4.0 million. 
Outlook 2014 
Exact is making significant progress on the execution of its strategy for long term profitable growth. We have a strong focus on innovation, with significant investments in R&D to play into the key trends in the market. We expect Cloud Solutions continuing to grow by 30 to 50% per year in the coming years, as our customer base expands and the international rollout gains traction. For Business Solutions and Specialized Solutions, we are aiming for a low single-digit growth in more mature markets. All in all, we expect to grow total revenues over time with 4 – 7% per annum. 
Notwithstanding the higher, internally funded, investments in our growth strategy, our goal for 2014 is to achieve an EBITDA at the same level as in 2013.
Additional segment information
________________________________________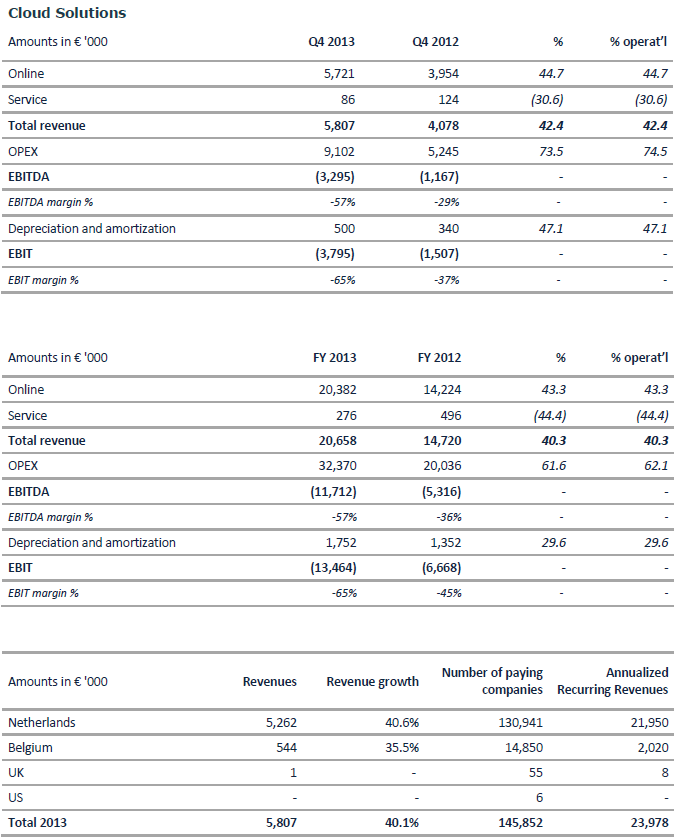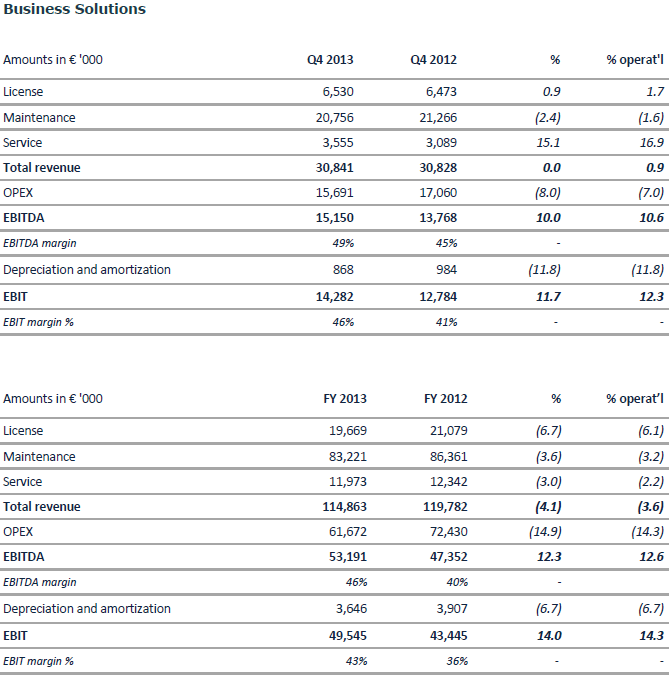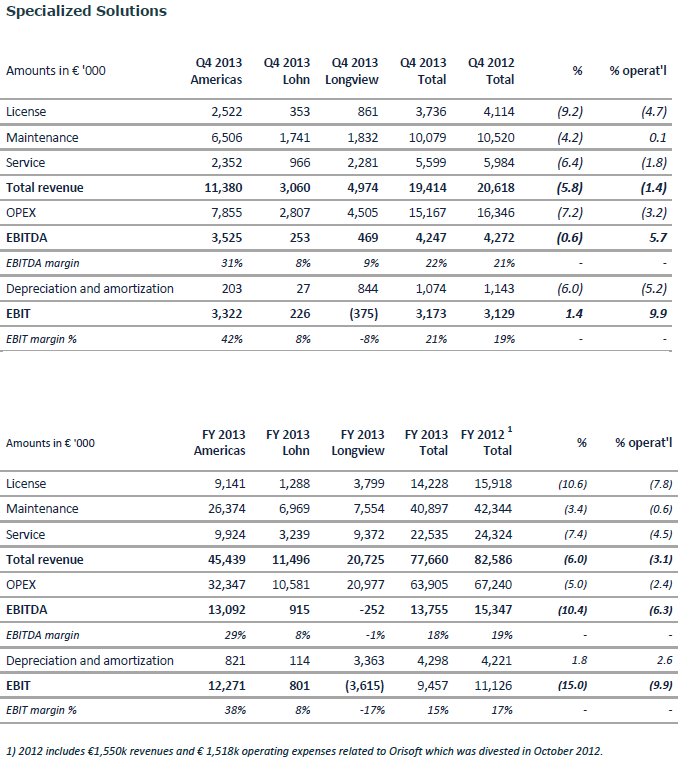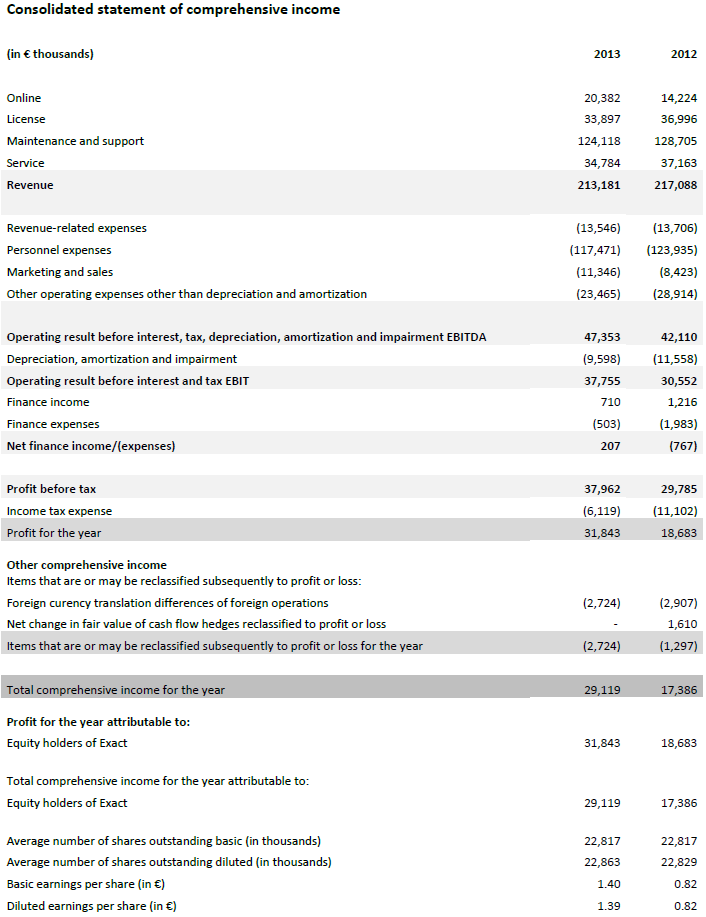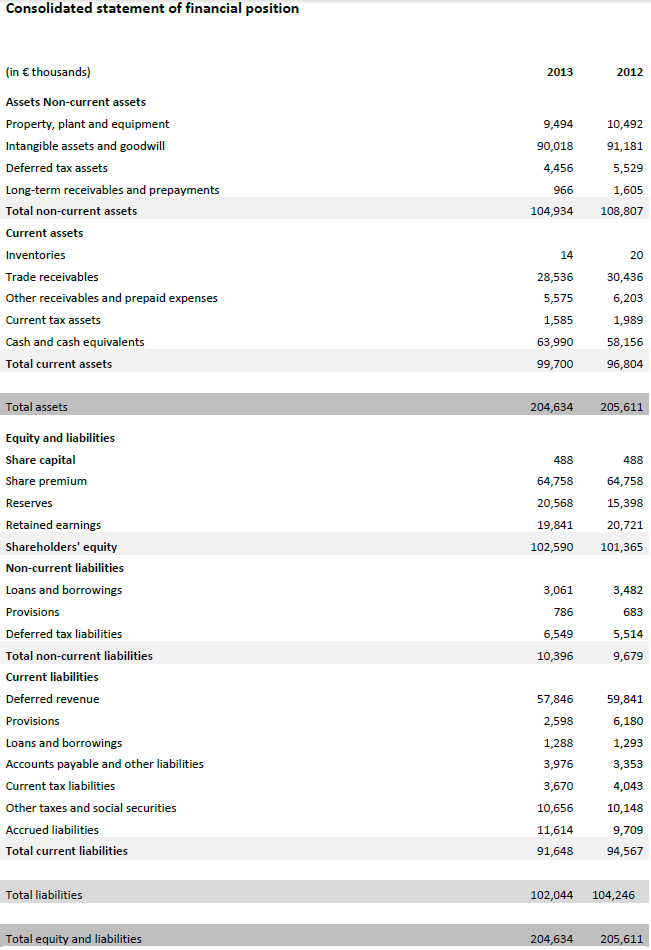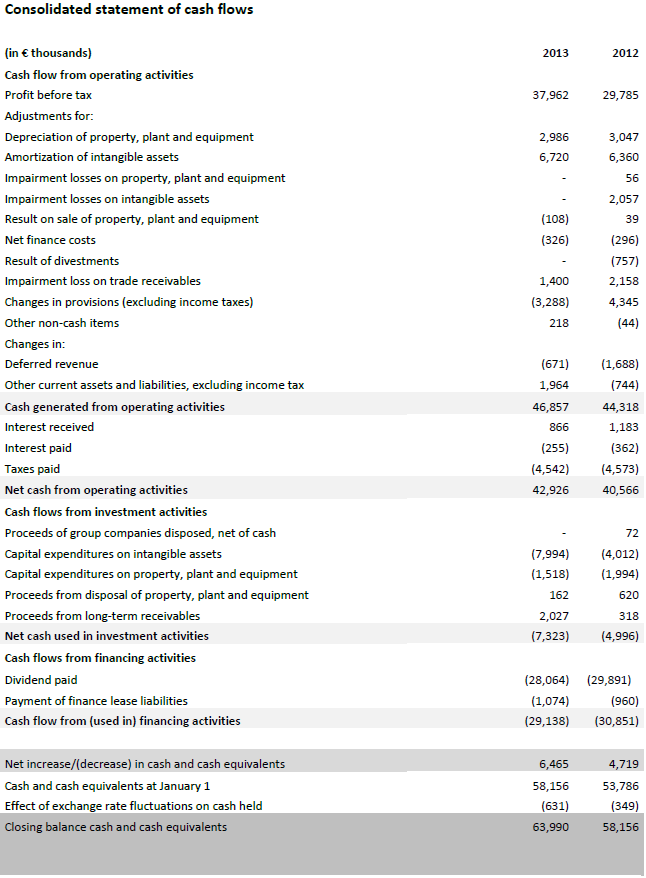 ________________________________________
ADDITIONAL INFORMATION
Wednesday February 12, 2014
Analyst & Investor Q&A 
14.00 CET (08.00 EST)
Conference call (for analysts and investors)
Conference ID: 9665710
Dial-in numbers
United States: +1 718 354 1158
United Kingdom: +44(0)20 3364 5381
The Netherlands: +31(0)20 716 8295
Important dates
April 23, 2014 Registration date
May 7, 2014 Q1 results
May 21, 2014Annual General Meeting
May 23, 2014 Ex-dividend
May 27, 2014 Record date
May 28, 2014Payment date final dividend
August 1, 2014Q2 results
November 5, 2014Q3 results
 ------------------------
About Exact
Exact is a leading global supplier of business software. Since we began in 1984, our focus has shifted from supporting financial processes to providing a complete ERP offering for small and medium-sized businesses. Innovative solutions such as Exact Globe Next, Exact Synergy Enterprise and Exact Online support over 100,000 customers – local and international companies – in the daily management of their business.
Exact develops industry-specific on-premise and cloud solutions for manufacturing, wholesale and distribution, professional services and accountancy. Exact is headquartered in Delft, the Netherlands, and has been listed on the NYSE Euronext Amsterdam since June 1999. The company booked revenues of € 213 million in 2013.
Media Relations
Jelle Zuidema 
T: +31 (0)15 711 5462 
M: +31 (0)6 4179 4588
E: jelle.zuidema@exact.com 
Investor Relations
Michel Hülters
T: +31 (0)15 711 5208 
M: +31 (0)6 55862237
E: ir@exact.com 
Exact Holding N.V.
P.O. Box 5066
2600 GB Delft
The Netherlands
Tel: +31 (0)15 711 5000
Fax: +31 (0)15711 5010
www.exact.com
This document contains certain statements and expectations that are forward looking, and which are based on information and plans that are currently available. By their nature, such forward looking statements and expectations generate risk and uncertainty because they concern factors and events in the future and depend on circumstances which may not occur. 
Unforeseen factors that could influence the statements and expectations may for instance be changes in expenditure by companies in the markets we operate in; economic, political and foreign exchange fluctuations; possible statutory changes; changes in salary levels of employees; future take over and divestitures.
Exact can therefore not guarantee that such statements and expectations are accurate and complete, nor that such statements and expectations will be realized. Actual results may differ materially. Exact refuses to accept any obligation to update statements made in this document.