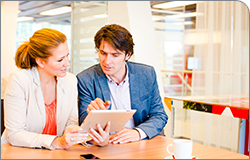 It is with due pride that we announce the first of a series of brand-new mobile apps with release 252 of Exact Synergy Enterprise: Exact CRM for iOS!
This new app represents an entirely new direction in terms of user experience and functionality. With dedicated role-based apps, individual users are provided with the right tools to really make a difference. Simplicity and ease of use are key here.
The CRM App contains all the information that sales people need, clearly organised. Integration with Twitter and LinkedIn means you are also guaranteed the latest external information. This enables you to be completely up to date when approaching your clients.
In addition to the social media integration, you can of course also manage your sales opportunities with the app. You always have your agenda to hand and can easily return to your work flow. Finally, you also have access to all documents that are linked to your client, yourself or the sales opportunity. Easily and clearly!
Highlights of the CRM App:
Entirely new calendar
Sales opportunities can be managed by order in time or end date.
Social media integration
Much improved document display
Clearly organised work flow
Innovative way of viewing sales opportunities