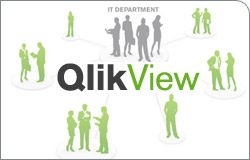 The combination of ERP and BI makes organisations versatile and effective.
Exact and QlikView have joined forces and are now offering their business software and business discovery platform in combined package. This makes it possible for employees at all levels to meet their own specific reporting needs. As they only monitor the developments that are important to them, they are able to identify positive and negative trends more quickly. This puts your company in a better position to quickly respond to changes and achieve its targets.
QlikView is easy to use and makes important information rapidly accessible via a smartphone or tablet. Thanks to this collaboration, your employees from board level right down to the shop floor are now able to take instant decisions on the basis of reliable information, which is stored centrally in an integrated solution by Exact. By analysing the data of the business processes with QlikView and visualising it on the basis of dashboards, your organisation becomes more effective. This is important for the following reasons:
your customers expect you to rapidly introduce new products onto the market;
increased transparency gives insight into costs, which makes it hard to compete on the basis of price;
if your chain has not been optimized, a small problem can soon result in your products not being delivered on time.
"By adding business-driven intelligence to Exact it soon becomes clear whether processes are optimally designed. If this is not the case, it is possible to intervene quickly by limiting waste and designing the organisation in a way that is as lean as possible", says Marinus ter Laak, Managing Director of Business Solutions at Exact. "The existing implementations of the business discovery platform at our customers prove that this works well. That is why it is a good thing that we now approach the market together."
"Our business discovery platform gives customers the possibility to take corrective action on time. Although standard BI reports do provide insight into KPIs, when these deviate it is not always clear why", according to Vincent Peters, vice president and managing director for the Benelux at QlikView. "It is great that the market leaders in ERP and business-driven intelligence have managed to find each other. Customers collect all the relevant data with Exact and QlikView subsequently points them in the right direction."
Exact has put together an introductory offer for its customers together with QlikView, which makes it possible for many companies to purchase a high-end BI solution at a much reduced price. Exact is currently in the process of working out the details of this new proposition. If you would nevertheless like to receive additional information on this, please contact the sales department of Exact.