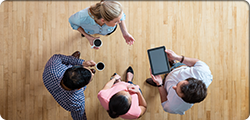 All your bank journals automatically completed daily with ProAcc and Codabox.
Optimal automation of your processes and an unbelievable time saving for you and your office!
Thanks to the integration between CodaBox software and your ProAcc Banking (available in every basic subscription), you can fully automate the entry of your bank statement information. When you start ProAcc, all your clients' bank statements will be waiting in the correct folder. One click of a button enters them straight into ProAcc, enabling you to focus on understanding the information, rather than typing it over by hand.
CodaBox ensures that the bank statements are collected from every company and made available to the bookkeeping office in ProAcc. Your ProAcc software then effortlessly imports the information per bank account per dossier per customer.