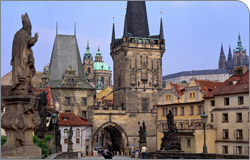 In September, the Dutch embassy in Prague was the site for a successful and exclusive Exact customer event. This network event, organized by Marketing and for international customers from our region East, was held at this unique location on September 5 & 6.
We invited decisionmakers of our international customers to this event to come together and share experiences, insights, strategy and best practices. With the Dutch Ambassador, Mr Ed Hoeks, hosting the event at the Dutch embassy in Prague's old town, our guests have also been presented with insights and knowledge of the Czech market.
Show our appreciation for our customers
Our main goal for this event was to improve our customer relation and provide added value to our customers with something else than 'just' our solutions. During the two day event, four customers told their story about their experiences with our solutions in their company and Exact as a business partner. Presentations by IDC analyst Philip Carter about the European ERP Market and the ERP Future and a product preview by our Product Marketing Director completed the program. We have also invited our guests for an optional sightseeing tour through the lovely old town of Prague, to conclude the event.
Resumé
Our guests enjoyed  and appreciated this event. A lot of networking, information and added value took place. Last but not least our guest enjoyed also the location, the framework program and of course the location in the beautiful city of Prague. For sure this was not the last event like this.
If you have any questions, please contact Jürgen Stallbommer (Senior Marketing Manager).